In the spotlight: Alaa Abdel Fattah (Egypt), prisoner of conscience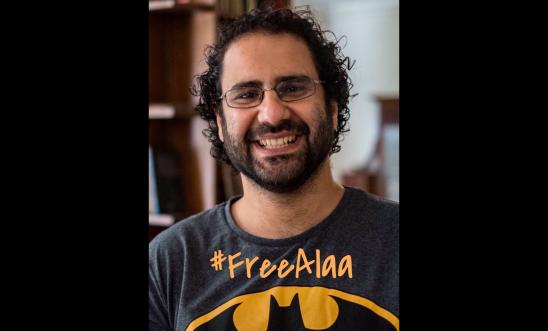 Alaa Abdel Fattah, prisoner of conscience in Egypt
Alaa Abdel Fattah, a well-known writer, political activist and government critic, has been repeatedly arrested in recent years, including for his role in the 25 January Revolution of 2011, which led to the toppling of then president, Hosni Mubarak after nearly 30 years in power. Alaa is one of thousands of people detained arbitrarily in Egypt solely for peacefully exercising their human rights or following grossly unfair trials, including mass and military trials.
Alaa is arguably the most high-profile political prisoner in Egypt, if not the Arab world. A fiercely independent thinker who fuses politics and technology in powerful prose, an activist whose ideas represent a global generation which has only known struggle against a failing system, a public intellectual with the rare courage to offer personal, painful honesty, Alaa's written voice came to symbolize much of what was fresh, inspiring and revolutionary about the uprisings that have defined the last decade. His book "You Have Not Yet Been Defeated" is a selection of his speeches, interviews, social media posts and essays since the outbreak of revolution in January 2011 – many written from inside prison.
Alaa was detained on 29 September 2019 pending investigations into charges of "joining a terrorist group", "funding a terrorist group" and "using social media to commit a publishing offence" under Case No.1356/2019 of the Supreme State Security Prosecution (SSSP), a branch of the Public Prosecution specialized in investigating national security threats.
Alaa was held in inhumane conditions at the Tora Maximum Security 2 Prison, in Cairo. Prison authorities held him in small, poorly ventilated cells and denied him a bed and mattress. Unlike other prisoners, he is prohibited from exercising in the prison yard and is not allowed to use the prison library nor to receive books or newspapers from outside prison at his own expense. The prison authorities also denied Alaa adequate clothing, radios, watches, access to hot water and any personal belongings, including family photos. Alaa's family have lodged official complaints about his treatment in prison, including his exclusion from the Covid-19 vaccine rollout. No information has been made available on the status of their complaints.
The trial of Abdel Fattah started on 28 October 2021. Proceedings before emergency courts are inherently unfair as their verdicts are not subject to appeal by a higher tribunal. Defendants are also denied their right to adequate defence as their lawyers are prevented from communicating with them in private and photocopying the casefiles, indictments and verdicts. He was sentenced to five years of imprisonment for spreading "false news undermining national security" in December 2021.
In 2021 Abdel Fattah claimed dual British citizenship through his mother, who was born in Britain.  On 2 April 2022, he began a hunger strike in protest at being kept in solitary confinement, refusing access to books and the opportunity to exercise, instead demanding to be allowed a visit by United Kingdom Consular staff.  As of 2 May, he had received no medical attention despite losing weight and becoming "very weak", and had said his farewells to his family.
During the last of week of April 2022, the Egyptian authorities released tens of men and women held for political reasons. President Abdel Fattah al-Sisi called for a "national dialogue" with opposition politicians and announced the reactivation of the "Presidential Pardons Committee" launched in 2016. On 5 May, a group of eight Egyptian NGOs called on the authorities to ensure the release of all those arbitrarily detained, sharing their proposal for a right-based approach for the release process.
On 18 May 2022 Alaa was transferred out of the Tora Maximum Security 2 prison to Wadi El-Natrun prison, northwest of Cairo.
On 6 November 2022, as Egypt hosted world leaders for the COP27 summit, Alaa Abdel Fattah stopped drinking water, after more than six months of a hunger strike. His sister Sanaa Seif raised concerns that he might die within days. She said she "hopes and trusts" that Prime Minister Rishi Sunak would secure Abdel Fattah's release during his visit to Egypt for COP27. Seif also spoke about her fears that the Egyptian authorities may be torturing Alaa and force-feeding him behind the closed doors. She asked for a proof of life of her brother. The UN human rights chief Volker Turk also called on Egypt to immediately release Alaa, stating that his life was "at acute risk". On 10 November, prison officials told Abdel Fattah's family he had received "medical intervention with the knowledge of a judicial authority," indicative of either force-feeding or intravenous rehydration. On 15 November, his family received a letter from him saying he had ended his hunger strike and he would explain why at their next visit.
His family continue to seek consular visits, in the hope they will add to pressure on Egypt to improve his prison conditions, or release him. To date no such visit has been permitted.
PLEASE TAKE ACTION ON ALAA'S BEHALF AND CALL ON THE EGYPTIAN AUTHORITIES TO:
Immediately and unconditionally release Alaa Abdel Fattah
 
Pending his release, urge the authorities to ensure that he is held in conditions meeting international standards, provided with adequate healthcare in hospitals outside prison, protected from torture and other ill-treatment and allowed to regularly communicate with his family and lawyers; and
 
Allow Alaa Abdel Fattah access to qualified health professionals providing health care in compliance with medical ethics, including the principles of confidentiality, autonomy, and informed consent and to immediately grant him a consular visit in accordance with the Vienna Convention on Consular Relations.
Please write to:
President Abdel Fattah al-Sisi
Office of the President
Heliopolis Palace,
Cairo,
Arab Republic of Egypt
His Excellency Nasser Kamel
Ambassador of Egypt to the United Kingdom
Embassy of Egypt in London
26 South Street
London
W1K 1DW
James Cleverly MP,
Minister of State for Foreign Affairs,
Department of Foreign, Commonwealth and Development Affairs,
King Charles Street, London, SW1A 2AH
View latest posts