Our Prisoners of Conscience, from UAE, Ahmed Mansoor & Mohammed Al-Roken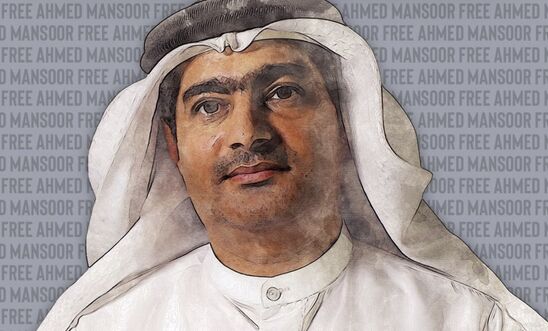 Ahmed Mansoor is a prominent human rights defender who has worked extensively with international rights organisations to raise awareness of human rights abuses in the UAE. He serves on the advisory boards of the Gulf Centre for Human Rights (GCHR) and Human Rights Watch's (HRW) Middle East division. In 2015, Mansoor won the prestigious Martin Ennals Award for Human Rights Defenders for all of his efforts in the field of human rights. 
Ahmed is an engineer, poet, writer and father of four. He is currently serving a 10-year prison sentence after being unfairly convicted in May 2018 of the offence of "insulting the status and prestige of the UAE and its symbols including its leaders" in connection with his peaceful human rights activism, including posts on social media. He is a prisoner of conscience.
He is being held in solitary confinement in an isolation ward in Al-Sadr prison in Abu Dhabi in dire conditions. Since his arrest on 20 March 2017, he has only been permitted to leave his small cell for a handful of family visits, and only once allowed outside for fresh air in the prison's exercise yard. In protest, he has been on two separate hunger strikes which have seriously damaged his health.
By detaining Mansoor in such appalling conditions, the UAE authorities are in violation of their obligations under the Convention Against Torture and Principle 6 of the Body of Principles, as well as Article 2 of the UAE's Code of Criminal Procedure.
What can you do to help?
Mohammed Al-Roken is a Human Rights Lawyer who has been jailed for 10years
Mohammed al-Roken, a human rights lawyer and long-time Amnesty member, is serving a 10-year prison sentence in the UAE, following his conviction on 2 July 2013 in a mass trial of government critics and reform activists. He had previously been harassed for a number of years because of his human rights work.
In a crackdown on human rights defenders, this trial – known as 'UAE 94' – was an attempt to silence calls for reforms. He was among 69 out of 94 defendants convicted of attempting to overthrow the government.
The trial was politically motivated and grossly unfair, and the defendants were denied the right to appeal the court's verdict. Mohammed al-Roken is a prisoner of conscience.
What can you do to help?
Downloads
View latest posts