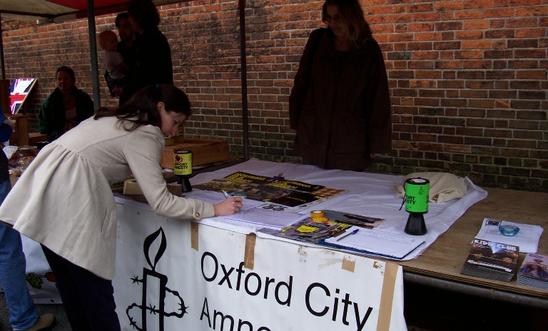 Welcome to the Oxford City Amnesty group website.
Listed here is information on meetings, group events, the campaigns the groups cover, as well as contact details and information on joining the group.
The group is made up of volunteers who carry out actions to promote the campaigns of Amnesty International.  Actions can range from simply writing letters or emails in your own time to organising public awareness events. 
Campaigns
The Oxford City Amnesty group is currently focusing on these campaigns, click on the campaigns for more information:
General Meetings
The Oxford City Amnesty group meets the 3rd Tuesday of every month apart from August at the Oxford Town Hall on St. Aldates (OX1 1BX) from 7:15 to 9pm.  The format includes letter writing, an Amnesty campaign focused workshop (usually) and a short meeting on news and events.
Meetings are open to everyone.
You can also find us on Twitter.
Oxford City of Sanctuary
Issues related to refugees and asylum seekers are particularly prevalent in the Oxford area, with the Campsfield Detention Centre just 6 miles outside the city. For many years local Oxford groups have been active on behalf of refugees and asylum seekers defending thier human rights and campaigning for their safety, health and well-being.
Oxford City of Sanctuary is one of them, and like Amnesty International UK, is part of the Still Human Still Here campaign.
We support Oxford City of Sanctuary in making Oxford a city that welcomes and provides sanctuary to all peoples fleeing violence, persecution, exclusion and destitution. We join Oxford City of Sanctuary in campaigns and actions or are jointly organising fundraising events.
For more information contact refugees@oxford-amnesty.org.uk or visit Oxford City of Sanctuary website www.cityofsanctuary.org.