Good News Stories - May & June 2020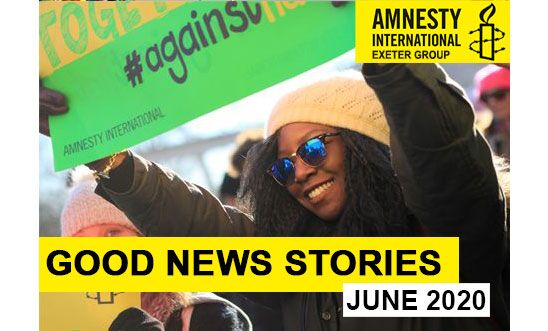 © Content from Amnesty International, Reuters & BBC
United States Supreme Court Upholds Equality, Human Rights in LGBTQ Workplace Protections Case
The U.S. Supreme Court on June 15th delivered a watershed victory for LGBT rights and a defeat for President Donald Trump's administration by ruling that a longstanding federal law barring workplace discrimination protects gay and transgender employees.  The landmark 6-3 ruling represented the biggest moment for LGBT rights in the United States since the Supreme Court legalized same-sex marriage nationwide in 2015. The justices decided that gay and transgender people are protected under Civil Rights Act of 1964, which bars employers from discriminating against employees on the basis of sex as well as race, colour, national origin and religion.
Responding to the good news, Tarah Demant, Director of the Gender, Sexuality, and Identity Program at Amnesty International USA released the following statement:  "The Supreme Court now has upheld the most basic value of equality, a human right that every one of us deserves. We celebrate the court decision that recognizes that non-discrimination in the workplace applies to everyone, no matter their sex, sexuality, or gender identity—and we celebrate with LGBTQI people who have long waited for equal recognition under the law. No one should be afraid to be who they are in order to work or live their lives. LGBTQI people have a right to the same protections as everyone else, and they deserve to be able to live their lives without fear of discrimination — something the Supreme Court has affirmed today."
Read more here & here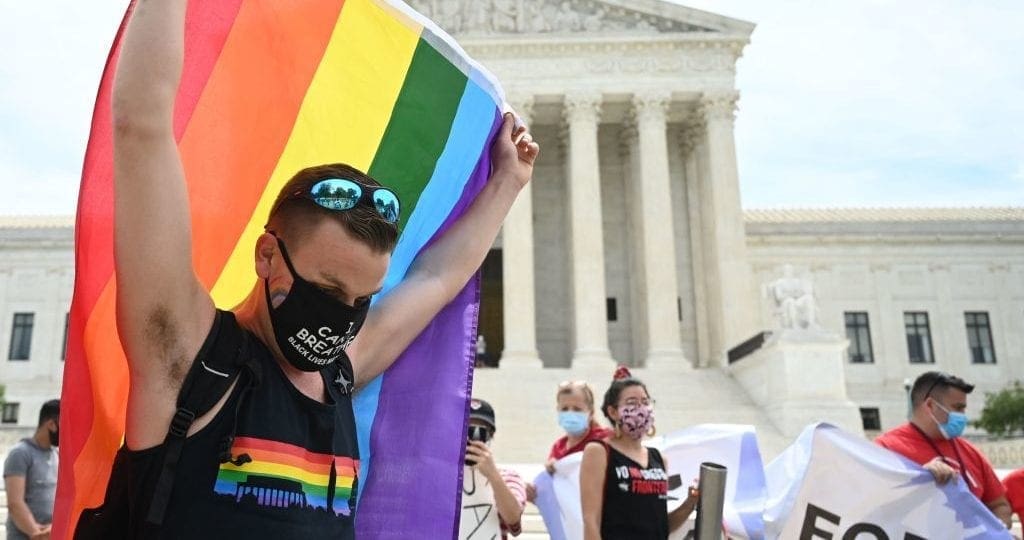 ____________________________________________________________
Iran: Nazanin Zaghari-Ratcliffe's latest furlough extension given cautious welcome
A cautious welcome on May 20th following the news from Nazanin Zaghari Ratcliffe's offical @FreeNazanin Twitter page, her furlough from prison has again been extended - until a decision has been made on her clemency.  Responding to the news Amnesty International UK's Director, Kate Allen said: "Another period of this 'conditional liberty' is far better than outright jail, but we're worried that the Iranian authorities are still playing games with Nazanin and her family. In Evin Prison, Nazanin was a prisoner of conscience. Confined to her parents' house in Tehran, Nazanin is still a prisoner of conscience. Nazanin was convicted after a deeply unfair trial, and she should never have been behind bars at all.  Obviously, there should be no question of Nazanin ever being sent back to Evin Prison. There are numerous reports of COVID-19 in Iranian jails, with detainees pleading for basic things like soap to help combat the disease.  With Nazanin's long-term fate still apparently undecided, the UK Government must step up efforts do everything within its power to ensure her full and unconditional release."
Read more here & here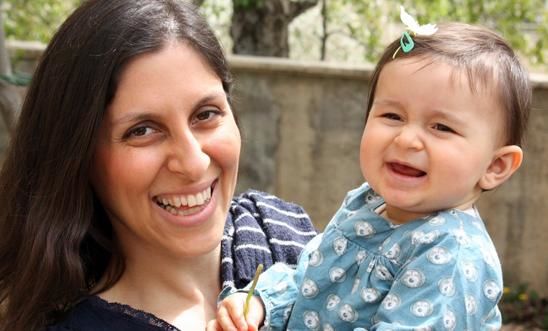 ____________________________________________________________
Hungary votes to end Viktor Orbans emergency powers
Some more cautious optimism after Hungarian lawmakers on June 16th voted in favour of repealing extraordinary powers granted to Prime Minister Viktor Orban to fight the coronavirus.  Members of parliament unanimously requested the government lift the state of emergency and Mr Orban's powers to rule by decree.  Mr Orban, says these powers enabled him to tackle the outbreak quickly and effectively.  But opposition groups fear Mr Orban's administration has greatly expanded its powers amid the outbreak.  NGOs critical of Hungary's leader issued a joint statement saying the vote to remove powers was an "optical illusion" and that the authorities retained greater powers than before the crisis.  Btmut while MPs have now asked to end the measures, they also approved a bill allowing the government to impose another state of emergency in the event of another medical emergency.   Mr Orban and his ruling Fidesz party, a nationalist and conservative, holds an outright majority in parliament, are continually accused of wielding power in increasingly authoritarian ways.
Read more here.

____________________________________________________________
Global executions fall to 10-year low
The number of executions carried out globally fell by 5% last year to the lowest figure in a decade, Amnesty's annual death penalty survey reveals.  At least 657 people were executed in 2019 compared to at least 690 In 2018, the fourth consecutive year the total has decreased. 
There were significant reductions in Egypt, Japan, and Singapore.  The number of executions fell for the second year running in Iran, the Worlds second biggest executioner after China.  No executions were carried out in Afghanistan for the first time since 2010. 
But the Death Sentences and Executions 2019 report also revealed that a minority of countries bucked the trend.  Saudi Arabia executed a record 184 people in 2019, 35 more than in 2018.  In Iraq executions almost doubled from a least 52 in 2018 to at least 100 in 2019.  In total, the report recorded executions in 20 countries.  As in previous years, it omitted China, where capital punishment statistics are classified as state secrets and thousands are believed to be executed annually.  Iran, North Korea and Vietnam also continue to hide the full extent of their use of the death penalty.  There were also setbacks: the Philippines attempted to reintroduce the death penalty,  Sri Lanka resumed executions including the US federal government who threatened to do the same.  They later followed through on that threat by executing their first federal prisoner in 17 years, in July this year. 
Thankfully the good news is that globally, 106 countries have abolished the death penalty in law for all crimes and 142 have abolished it in law practice.  In 2019, several countries moved towards abolition, including Equatorial Guinea and Barbados.  In the USA, California established a moratorium on executions and New Hampshire abolished the death penalty for all crimes.
Read more here.
____________________________________________________________
Venezuelan Covid-19 journalist Darvinson Rojas released on bail
Thanks to the public pressure and countless appeals of our global community of activists, Darvinson Rojas, a Venezuelan journalist and prisoner of conscience, is no longer detained.  Before his arrest he was covering the spread of coronavirus in Venezuela very closely.  Since being brought before the court and charged, he has been home on bail awaiting the next steps in his trial.
The population in Venezuela faces severe shortages of food, medicines, medical supplies, water and electricity whilst the authorities refuse to recognise the true scale of the humanitarian emergency and deteriorating living conditions.  By the end of 2019, the total number of people who had fled the country in search of international protection had reached 4.8 million.
In Darvinson Rojas' case, his reporting on the spread of COVID-19 in Venezuela put him at risk of becoming a victim of the government's policy of repression, given the firm grip authorities under Nicolás Maduro have over information on public health matters and the government's inadequate response to it.
Police raided Darvinson's home in Caracas and claimed there was a Covid-19 case to be investigated.  There is no evidence of this being the case – and even if there was it would not justify Darvinson's arrest.  Darvinson was held by the Special Action Forces (FAES) for twelve days.  The FAES have swept the country in recent years arresting anyone that criticises the government.  Prisoners are often charged with bogus crimes and tried in military courts, despite not being in the military.  Darvinson has been charged with 'advocacy of hatred' and 'instigation to commit crimes'. These charges are a politically motivated attempt to silence his reporting on the Covid-19 pandemic in Venezuela. 
Darvinson has expressed deep gratitude for the support he and his family have received through this process. Amnesty International will continue to monitor his case, document any irregularities, and to campaign for the Maduro government drop the arbitrary charges pressed against him.
Read more here & here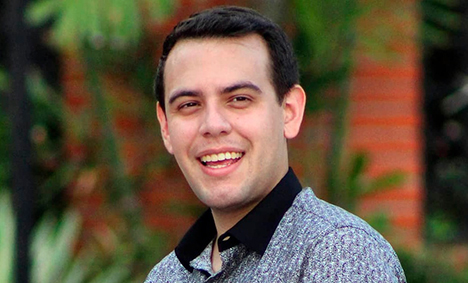 ____________________________________________________________
Bahrain
A leading human rights activist who was sentenced to five years in jail for criticising the government on social media has been released. Nabeel Rajab, had been held since 2016 and convicted of offences including "spreading fake news". Rajab's lawyer said his client would serve the remainder of his sentence in a non-custodial setting. Bahrain introduced legislation in 2018 that allowed courts to convert jail terms into non-custodial sentences. Rajab is the first major opposition figure to be freed under this legislation. Rights groups condemned Rajab's treatment and a UN panel has called for his release.
Responding to his release, Amnesty International's Middle East Research Director Lynn Maalouf said: "It is a relief that Nabeel Rajab is finally reunited with his family who bravely continued their relentless public campaign for this day to come. While this is a moment to celebrate, it is impossible to forget that he has spent almost four years unjustly separated from them, [nor should we] forget the many other peaceful activists who remain behind bars in Bahrain. Nabeel's release must now be accompanied by the quashing of his conviction and sentence and the dropping of any outstanding charges [be] brought against him in relation to his expression of peaceful opinion.
Bahrain's authorities must also release all peaceful activists who remain detained solely for peacefully exercising their right to freedom of expression and other human rights. With fears around an outbreak of COVID-19 in prisons, they must urgently consider further measures to reduce the prison population and ensure the right to health of all detainees." 
Read more here & here.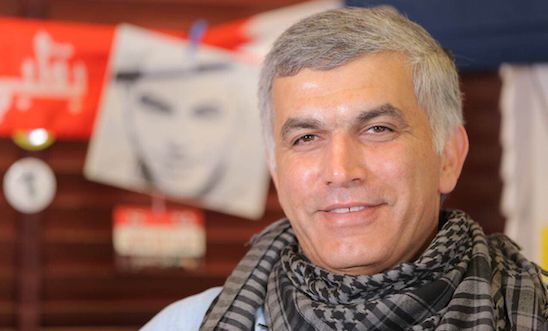 ____________________________________________________________
China
Li Qiaochu, an active defender of the rights of women and workers, has been released on bail and returned home on 19 June 2020. Detained incommunicado since 16 February 2020, her arrest is suspected to be related to her activism against gender violence and the fact that her partner, Xu Zhiyong, attended an informal gathering of lawyers and activists in Xiamen in December 2019.
Qiaochu was taken away by police in Beijing on 16 February 2020, but the authorities only confirmed two months later that she was being held under 'residential surveillance in a designated location' in April 2020. Li Qiaochu is a well-regarded researcher on labour rights and has been a peaceful advocate against gender-based violence for many years. It is believed that Li's peaceful activism, and close association with other activists, was the primary reason for her detention.
It is rare for a Chinese human rights defender to be released in such a short time frame, and it is believed that this is a result of global mobilization around her case. Expressing their appreciation for those who took action and contributed to Li Qiaochu's release, Li and her family said: 'Thank you to all friends who care about Li Qiaochu.'
Qiaochu's status means that the authorities have not yet dropped the charges against her.  As it is common for human rights defenders in China to continue to face surveillance after being released from detention, Amnesty International will continue to monitor Li Qiaochu's situation and respond to any negative developments if required.
Read more here.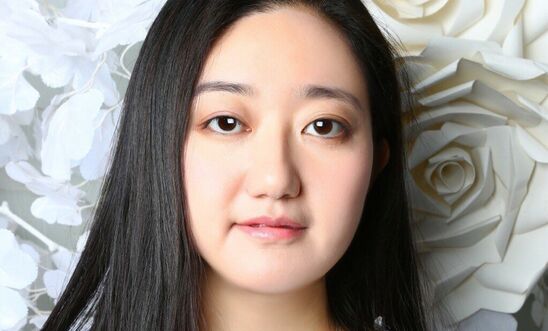 More good news stories will be published next month.
View latest posts