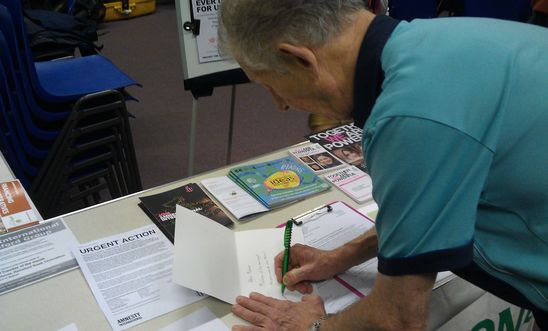 Signing a birthday card for Mehman Huseynov
Our group had a stall at the Chelmsford Trades Union Council and Banner Theatre event 'In A Right State!' on 26 October 2013. It was a fantastic cabaret of resistance, featuring music, video and comedy, with audience participation on some of the songs!
We asked visitors to our stall to sign a birthday card for Mehman Huseynov, the photo-journalist and human rights defender from Azerbaijan, who faces up to five years in prison just for doing his job.
We also asked them to sign letters to the Czech Minister of Justice and Minister of the Interior calling on them not to return Tatiana Paraskevich, an asylum-seeker in the Czech Republic with dual Kazakhstan and Russian nationality, to Kazakhstan where she would be at risk of torture.
View latest posts