Gaza: Operation Protective Edge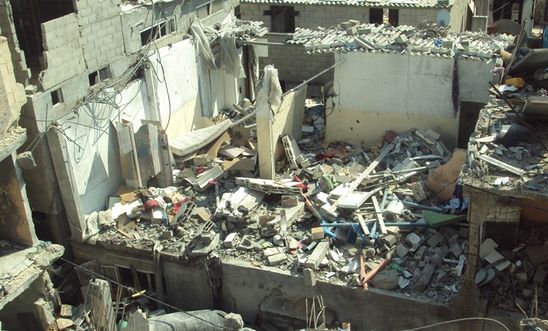 It began just after four o'clock on a sunny Wednesday afternoon. Four young boys, all cousins from the same family, were playing football on a Gaza beach.
The shelling rained down – killing all four children.
The Israeli military offensive 'Operation Protective Edge' launched on 8 July 2014, killing and injuring scores of civilians.
This deadly seven-week battle wreaked further havoc, punishment and devastation on Gaza's already blockaded population, with Gaza's children caught in the crossfire.
The human toll of the violence
Operation Protective Edge saw more than 2,000 Palestinian deaths (including more than 500 children) and more than 10,000 people injured.
Thousands fled their homes, or what was left of them. Those that stayed still struggle to access basic services as Gaza's infrastructure is left in tatters.
During the attacks, British deputy prime minister, Nick Clegg, spoke out against Israel's retaliatory shelling, dubbing it 'deliberately disproportionate' and amounting to 'collective punishment'.
War crimes
During the conflict, family homes were among the targets for airstrikes. Our research shows there was a failure to take necessary precautions to avoid excessive harm to civilians, which is against international humanitarian law.
Several of the attacks directly and deliberately targeted civilians and landmark buildings. In many of the cases we investigated, no prior warning was given to residents to allow them to escape.
Hamas and other Palestinian armed groups also fired thousands of indiscriminate rockets and mortars into civilian areas of Israel, killing six people including one child.
Both sides in this conflict have committed serious human rights violations.
Stop the arms, stop the killing
In 2013, the UK sold £6.3 million-worth of arms to Israel. We know that some arms sold by the UK government have been used to commit human rights violations in Gaza in the past.
By supplying arms – even indirectly –the UK could have helped to facilitate war crimes.
Thank you
Almost 60,000 of you called on the UK government to suspend all arms transfers to Israel. Our action to the UK government was part of a campaign by Amnesty activists around the world to halt sales in their countries and call for a UN arms embargo.
We're continuing to investigate and document serious human rights violations in this conflict, including unlawful killings and injuries to civilians, and the destruction of civilian property by Israel, Hamas and other Palestinian armed groups.
We're calling on both parties to allow an independent and impartial investigation into these grave violations. Those who have committed war crimes must be held accountable.