Theresa May's "Global Britain" - prosperity over peace?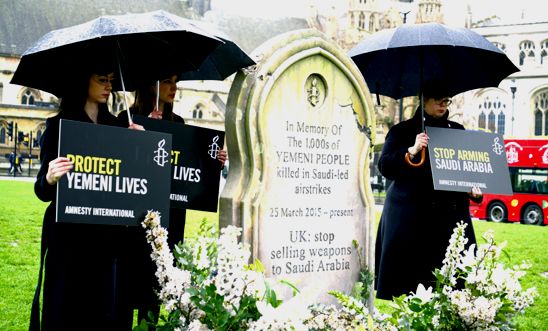 A six-foot gravestone in Parliament Square commemorating the lives lost in Yemen in Saudi-led air strikes. © Almas Korotana
By Lucy Wake, Amnesty Government and Political Relations Manager
It's recess in the hallways of power. A time for MPs to see more of their constituents, or indeed have a well-earned break. Our Prime Minister, however, has taken the opportunity to jet off to Saudi Arabia (and Jordan). Interesting timing, given yesterday's news that the Metropolitan Police is examining allegations of war crimes made against Saudi Arabia.
Apparently talks between the UK and Saudi will focus on stronger ties following the vote for Brexit. I don't remember closer ties with Saudi Arabia featuring strongly on the Vote Leave material – maybe it was in the small print.
The future of foreign policy
This visit begs the question: what will UK foreign policy look like in a post Brexit world? One thing is certain, in the flurry of upcoming trade deals that need to be made, the UK government is courting countries left, right and centre. But at what cost, some might ask.
The latest rebrand of UK foreign policy is "Global Britain". The Foreign Secretary made clear it was about "committing ourselves to the peace and prosperity of the world". A "Global Britain" is one who "can do good for the world in the projection of our values". 
In the Prime Minister's visit we need not doubt the UK's commitment to prosperity, what appears less apparent is the commitment to peace or what values the UK is intending to project?  
Of course, we understand trade and security are weighty issues, but Theresa May should also be telling her hosts that their country's human rights record is totally unacceptable.
Human Rights in Saudi Arabia
For those who aren't up to speed with the litany of human rights abuses the Saudi's are accused of, I'll give a quick rundown. You can decide for yourself how aligned they are to UK values; some of which are handily set out in the Foreign Office's Annual Human Rights Report. They include torture prevention, supporting the global abolition of the death penalty, championing of civil society, supporting an international arms trade treaty and more.
Now let's see how Saudi Arabia measures up to our values.
Torture and other ill-treatment is common place. Particularly flogging. Ashraf Fayadh, Palestinian poet and artist, was sentence to 800 lashes and eight years' imprisonment for apostasy on account of his writing.
The use of the death penalty is rampant – In one day alone in 2016 they carried out 47 executions, reportedly 43 by beheading and four by shooting, in 12 locations around the country. Amongst them was prominent Shi'a Muslim cleric Sheikh Nimr al-Nimr who was sentenced to death after a grossly unfair trial.
Amnesty International remains extremely concerned about the impending executions of three young men arrested as teenagers and sentenced to death in Saudi Arabia. Ali al-Nimr, Abdullah al-Zaher and Dawood al-Marhoon have exhausted all of their appeals and are at risk of being executed at any time.
If you dare to criticise the Kingdom you can expect to be harassed, arrested or even prosecuted and sentenced to years in prison, as the Saudis attempt to crush any semblance of a human rights movement in the country. Essam Koshak is a computer engineer and human rights activist who uses social media to call for reform and respect for human rights in Saudi Arabia. He has been detained since 8 January 2017 for his online activism.
The list doesn't end there. At least 4,600 civilians have been killed and more than 8,000 have been injured since the conflict began two years ago in Yemen. Reckless and indiscriminate Saudi-led coalition airstrikes are causing endless death and destruction. As civilian suffering caused by the warring parties grows in scale and severity, the UK continues to supply arms to Saudi Arabia with a devastating cost of thousands of civilian casualties. As a former champion of Arms Control regulation, one might ask our government, how many Yemenis need to die before we stop selling arms?
Whatever deals Mrs May secures during her time in Riyadh, there should be one business arrangement that is immediately suspended - the sale of all UK arms to Saudi Arabia that could be used to carry out yet more atrocities in Yemen.
Take a minute to write to your MP, asking them to keep up the pressure on Mrs May to end these arms sales. Let's make it clear what kind of values we want at the heart of our 'global Britain'.
About Amnesty UK Blogs
Our blogs are written by Amnesty International staff, volunteers and other interested individuals, to encourage debate around human rights issues. They do not necessarily represent the views of Amnesty International.
View latest posts