Five questions the UK government must answer regarding arms to Saudi Arabia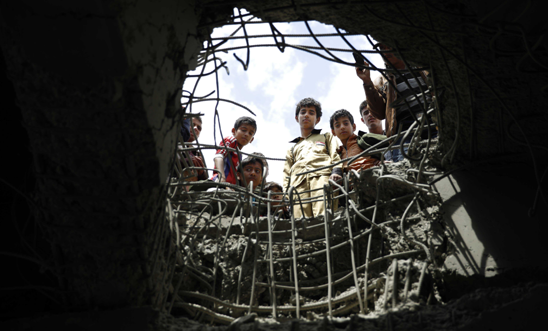 Wednesday, March 23, 2016 - boys look through a hole made by a Saudi-led airstrike on a bridge in Sanaa, Yemen © © AP Photo/Hani Mohammed
Why does the UK continue to supply weapons to Saudi Arabia - a country accused of such unlawful and devastating airstrikes in Yemen?
In response, Ministers continue to roll out the line that the UK has one of the most robust sales processes in the world. If only this were true…
The UK was once champion of rules to better regulate the global trade in arms. In 2014, the then Foreign Secretary, William Hague, was delighted to have signed the Arms Trade Treaty (ATT) designed to make the world safer, by placing human rights and international humanitarian law at the heart of decisions about the arms trade.
Just three years later the UK is breaking its own laws and is acting in breach of this very landmark ATT. The UK continues to supply arms to Saudi Arabia with a devastating cost of thousands of civilian casualties.
One might ask, how many Yemenis need to die before we stop selling arms?
We and the Yemeni people deserve answers. Here are five questions the UK government must answer on arms sales to Saudi Arabia
1. What will it take for the UK to stop arms sales to Saudi Arabia?
When asked by a Lord's Select Committee about suspending arms exports to Saudi Arabia pending a UN inquiry, Boris Johnson the Foreign Secretary replied, to the astonishment of one of the Lords present:
'We have received sufficient assurances from the Saudis about the incidents that have taken place so far to think that we are on the right side – narrowly on the right side – of that threshold.'

Foreign Secretary Boris Johnson
The UK's assessment of being narrowly on the "right side" flies in the face of multiple reports from Amnesty International, NGO reports from the ground, a report by a UN Panel of Experts on the Yemen conflict, a Legal Opinion by leading human rights legal experts, and calls from three Select Committees to address the issue of arms transfers  to Saudi Arabia.
The ATT and our own national laws are unambiguous: where there's a clear risk that arms sales might contribute to serious violations of international human rights and humanitarian law, or crimes under international law, those transfers should be stopped.
And there is undoubtedly a clear risk. According to the January 2016 UN Panel of Experts Report on Yemen, the coalition airstrikes have clearly failed to take all necessary precautions to avoid civilian casualties.
Human Rights Watch and Amnesty International have documented more than 70 unlawful coalition airstrikes, some of which may amount to war crimes.
Oxfam's red lines campaign is just one of many calling on the UK to abide by their obligations under the Arms Trade Treaty and suspend arms sales to Saudi Arabia.
2. What exactly are those UK personnel doing in the Saudi Arabian command and control centre?
The Saudi Arabian foreign minister, Adel al-Jubeir, enlightened us that:
'We have British officials…in our command and control centre. They know what the target list is and they have a sense of what it is that we are doing and what we are not doing'.
The International Development Select Committee are also keen to know the answer to this question, asking the UK government to provide more detail on the role of UK personnel in Saudi Arabia, in particular:
How many UK personnel are assisting the Saudi Arabian armed forces and in what roles, including BAE Systems employees?
How are UK personnel advising the Saudi Arabian armed forces on IHL and what level of understanding do they have of the coalition's regard for IHL in its operations in Yemen?
3. Why is the UK involved in the supply of cluster munitions?
Cluster bombs are indiscriminate weapons that have been rightly banned by more than 100 countries including the UK, so it's truly shocking that a British cluster munition has been dropped on a civilian area in Yemen.
Although the UK supplied this deadly weapon to Saudi Arabia in the 1980s, before the Cluster Munitions Convention, it goes to show the enormous danger they pose years after being supplied.
In May 2016, we released new research documenting the use of cluster munitions by the Saudi Arabia-led coalition, including the use of UK-manufactured ones. A mere seven months later, in December, the Secretary of State for Defence confirmed Amnesty's findings.
I think it's high time the UK launched an immediate inquiry into the use of UK-supplied weapons by the Saudi Arabia-led coalition in Yemen. Top of their list should be to publicly clarify whether or not UK-supplied aircraft have been used to deploy cluster munitions and whether British support personnel have been involved in the cluster bombing .
4. Why won't the UK push for an independent international investigation?
Apparently, ministers are not opposed to an international investigation but continue to believe the Saudis should be allowed to conduct their own inquiries first. The Minister, Tobias Ellwood MP has stated:
'If I feel that the reports that are due to come [from Saudi investigations] are deemed to be unworthy, unsuitable or miss the purpose for which they are being written, I will…say that this should be moved to an independent examiner, possibly the United Nations.'
I would invite the Minister to assess our analysis of the investigations to date. They have concluded that the Saudi Arabia-led coalition's investigations into violations appear to have failed to meet international standards.
The Ministry of Defence is tracking 252 alleged violations of humanitarian law by the Saudi Arabia-led coalition. How many of them are civilian deaths?
Have any of them been the subject of the coalition's Joint Incidents Assessment Team?
And, furthermore, when will the UK support calls to establish an independent international investigation into violations of international law in Yemen by all parties to the conflict, with a view to ensuring that perpetrators are held accountable?
So many questions.
5. Did the UK breach the ministerial code?
Serious allegations that the government gave misleading information to the House of Commons must be addressed. Four errors have been made in answer to parliamentary questions and in two statements on the issue of whether the UK Government had assessed alleged serious violations of international humanitarian law by Saudi Arabia in Yemen.
This has led MPs to question whether there has been a potential breach of the ministerial code.
We may not have to wait long for some answers. Legal proceedings in the High Court in which the Campaign against the Arms Trade (CAAT) challenged the legality of the UK's continued arms exports to Saudi Arabia, concluded on 9 February.
I would say watch this space. But instead why don't you ask your MP to support our call for an immediate end to UK arms transfers to Saudi Arabia?
About Amnesty UK Blogs
Our blogs are written by Amnesty International staff, volunteers and other interested individuals, to encourage debate around human rights issues. They do not necessarily represent the views of Amnesty International.
View latest posts