Syria 2016: Why the UK government must do more
So, here we are: a new year and a new job. While most people were probably dreading the post-Christmas week back at work, as evidenced by the 'backtowork' hashtag on the first Monday back, I was one of the handful of excited and raring-to-go new members of staff here at Amnesty. I'll even admit to buying new stationary (sorry to be 'that guy') prior to my first day.
Having completed various admin necessities, it was time to get to work. Amongst other briefs, my role will involve getting Amnesty's message on Syria across to the UK government and Parliament. A big job, given the political crisis in that country!
While the New Year brings hope for many of us, Syria's future remains precarious. One of the things I did this week was attend a parliamentary film screening of '7 Days in Syria', hosted by the Friends of Syria, Women, Peace & Security and United Nations All Parliamentary Party Groups.
The documentary maker, Janine di Giovanni, described the situation in Syria as 'a failure by the whole of the international community'. It's hard to disagree with that. As the conflict enters its fifth year, the statistics speak for themselves: 250,000 killed; almost 8 million internally displaced, and 4 million refugees.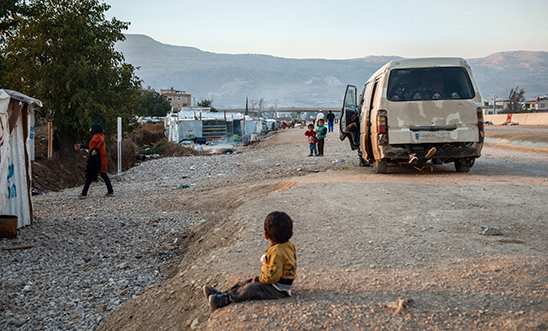 Image: Syrian refugees in the Bekaa Valley, Lebanon. Giles Clarke/Getty Images
As reported by Amnesty this month, the humanitarian situation in Madaya is an example of the dire humanitarian situation across the country. We found that people were living on nothing more than foraged leaves and boiled water while the UN described the situation as 'the worst they have seen in the country'. While it is a positive step that a deal was struck involving the Syrian government lifting the blockade to many Syrian towns, the UK needs to ensure that starvation cannot be used as weapon of war by either side, with the UN having estimated that 400,000 have been left without access to life-saving aid.
Given the volatile situation, it was inevitable that this issue remains high on the UK government's and Parliament's agenda. In the first week of January, Jo Cox MP, Greg Mullholland MP and Lord Soley pressed the government on the Syrian crisis. We responded by briefing parliamentarians. There was an excellent piece written this week by the Chair of the APPG on Refugees, Thangham Debbonnaire MP, where she urged politicians not to ignore our obligations to refugees following the sex attacks in Germany on New Year's Day.
Here at Amnesty, we're calling for our government to do more. In one sense they have responded well to the humanitarian crisis through the offering of a 1.1 billion aid package to Syria. This, however, needs to be bolstered by sharing responsibility for the refugees fleeing Syria, both in the region and those who have arrived on Europe's shores. Only following immense public and political pressure did the Prime Minister agree to resettle 20,000 refugees. Until then the UK had settled a mere 216 Syrian refugees – a source of great shame for many.
However, the UK's policy on resettling refugees remains inadequate when compared with the scale of the crisis. The situation of many Syrian refugees, is insecure and unsustainable. Last year Amnesty documented unlawful expulsions of refugees from Turkey to Syria and intolerable prohibitions on Syrian refugees in Lebanon and Turkey preventing registration, access to healthcare and access to employment.
The UK has always had people fleeing persecution settle here, whether the French Huguenots fleeing religious persecution in the 18th Century or the Jewish community at the outbreak of the Second World War, all who settled just around the corner from our office in Shoreditch.
The east end has always been a place where immigrants have naturally gravitated to. It's where my family settled after making the journey from Pakistan, via Spain after facing religious persecution for simply being from the Christian minority community. With just the clothes on our backs my mother flew with two babies to Europe to be reunited with my dad who had fled two years previously. Let's make no bones about it, growing up as immigrants was not easy. The sense of not knowing if you belong and where you fit in, if at all, constantly moving around (10 schools by the age of 11), having a limited grasp of English and being surrounded by poverty were far from ideal circumstances for us.
But we were lucky. We were lucky as the government decided we could stay. I was lucky because, despite the start in life, I had teachers, neighbours, local charities and church who stepped in to look out for us when we had nothing. Yes, they helped me with things like homework, but more importantly, they gave me the encouragement, love and care I needed. All in all, they made my family feel like we belonged. 
The people of Syria have left their country after experiencing horrific things. And they have left in the hope of something better. Just like my family did all those years ago. We can do more to help. We must do more.
Unfortunately, it seems that many countries - including those that initially welcomed Syrian refugees to their shores - are hardening themselves. Just last week Lebanon forcibly returned refugees fleeing Syria, while parliamentarians in Denmark are debating the introduction of draconian legislation to delay family reunion of refugees with their partners and children for several years, and to give officials powers to confiscate the belongings of people seeking asylum.
Syrians, and other refugees who had previously been welcomed with open arms at railway stations are now being met with barbed wire and protests. Yet people across the UK and beyond continue to call for the UK to do more to welcome refugees; from writing to MPs, attending protests to collecting clothes and raising vital funds for those trapped by a lack of political leadership, living in unsafe and unsanitary conditions in the freezing weather in Calais and Dunkirk.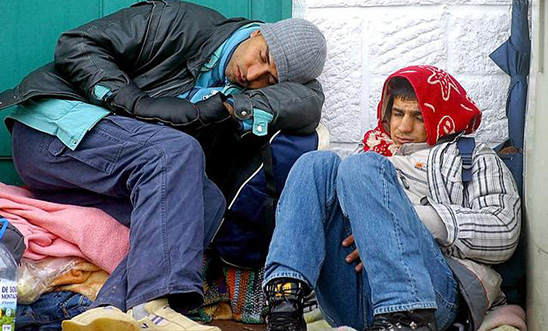 Image: Refugees sleeping outside Saint Pierre-Saint Paul Church, Calais, France. APGraphicsBank
So what can we all do to prevent "refugee fatigue" and get our own government to step up? The good news is that a notable interest by Parliamentarians on the plight of refugees continues. But it must now translate into positive action. We must ensure that the many refugees, who cannot find a safe and sustainable place of asylum elsewhere, have safe and legal routes available so they are not compelled to attempt perilous journeys across the Mediterranean and Aegean and within Europe in the hands of people smugglers.
The Immigration Bill provides a real opportunity to expand a safe and legal for refugees to be reunited with family members in the UK, by removing prohibitive restrictions and fees. We want to see refugees welcomed, including Syrians and looked after and that's the message the government needs to hear. We want the government to show that refugees are, more than ever, welcome.
About Amnesty UK Blogs
Our blogs are written by Amnesty International staff, volunteers and other interested individuals, to encourage debate around human rights issues. They do not necessarily represent the views of Amnesty International.
View latest posts