More than 100 refugees in 'mortal danger' as they are forcibly returned to Syria from Lebanon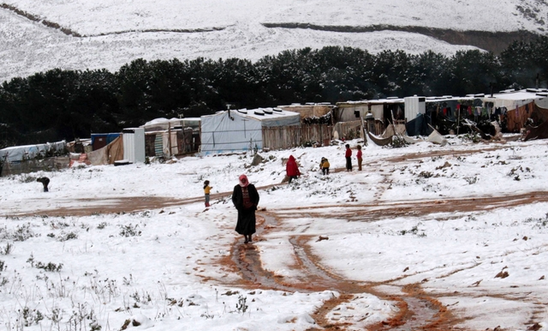 Refugee in the snow in Lebanon
"By forcibly returning more than 100 refugees to Syria the Lebanese government has stooped to a shocking new low and is putting these people in mortal danger" - Sherif Elsayed-Ali
More than 100 Syrian refugees have been forcibly returned to Syria by the Lebanese authorities today, Amnesty International has learned in a move it branded an 'outrageous breach of Lebanon's international obligations' which would put the refugees in mortal danger.
Around 150 others are still stranded at Beirut's Rafic Hariri International Airport and are at risk of imminent deportation in the coming hours. The authorities are reportedly planning to force them to leave on the next flight at 9:30pm local time.
The refugees had arrived in Beirut on flights from Syria with the intention of travelling on to Turkey. They were due to depart on 7 January but were unable to leave as two Turkish Airlines flights were cancelled ahead of new visa regulations for Syrian refugees imposed by the Turkish authorities that came into force today restricting access to the country.
Sherif Elsayed-Ali, Head of Refugee and Migrants' Rights at Amnesty, said:  
"By forcibly returning more than 100 refugees to Syria the Lebanese government has stooped to a shocking new low and is putting these people in mortal danger.

"This is an outrageous breach of Lebanon's international obligations to protect all refugees fleeing bloodshed and persecution in Syria. The Lebanese government must halt all further deportations of Syrian refugees immediately.

"The new visa regulations in Turkey present yet another hurdle for Syrians desperate to seek sanctuary from the conflict and show what devastating consequences such restrictions can have for refugees."