Abduction, torture and rape drives exodus across the Mediterranean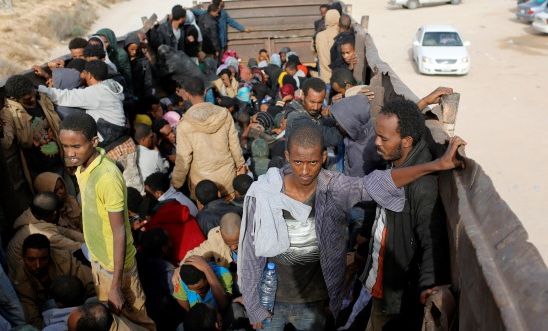 African migrants are transferred to a detention centre after being detained in northern Libya. © Reuters
'We were facing death in Libya so we thought we might as well face death in trying to get to Italy.'

Syrian family interviewed by Amnesty in Sicily, August 2014
Faced with exploitation, religious persecution, sexual violence, torture and slavery, people inside war-torn Libya are risking their lives to make the perilous journey across the Mediterranean Sea.
We spoke to migrants and refugees who have fled to Libya to escape poverty, conflict and persecution elsewhere in sub-Saharan Africa and the Middle East. Now the increasing lawlessness and abuse posed by armed groups and smugglers in Libya have left them with no choice but to flee again.
They risk their lives in rickety, overcrowded fishing or rubber boats – boats with no life jackets, no trained captain and insufficient fuel for the journey.
Take action – call for stronger search and rescue operations in the Med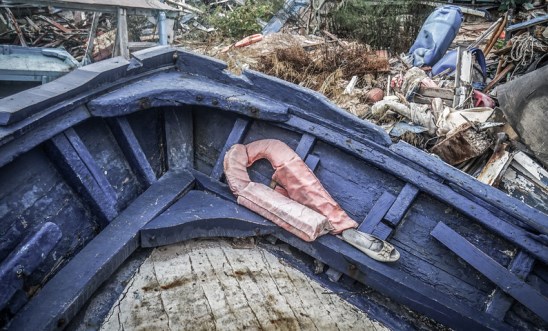 Remnants of wrecked migrant boats decay in a ship graveyard along the coast in Lampedusa. Giles Clarke/Getty Images
Danger on the smuggling route
When they arrive in Libya, many migrants and refugees find themselves handed over to criminal groups, or held in remote desert locations by smugglers, who force them to call their families to pay a ransom.
'We were held in the desert. There were many girls from Ethiopia, Eritrea, from Somalia. The smugglers were using them. The women were crying but I could not help them because I was a hostage myself. They treated me badly, they beat me. They beat other teenage boys as well.'

A 17-year-old Somali boy interviewed by Amnesty in Tunisia, March 2015
Women in particular are at risk of rape and sexual abuse by smugglers and criminal gangs. Unable to pay ransoms, many are forced into sex in exchange for being released or being allowed to continue their journey.
'They took us to a place outside the city in the desert, tied my husband's hands and legs to a pole and gang-raped me in front of his eyes. There were 11 men in total.'

A woman from Nigeria, interviewed by Amnesty
Religious persecution
The rise of armed groups with allegiances to the Islamic State (IS) has intensified the risks faced by religious minorities in Libya.
'Libya is a country where Christians shouldn't come… If you say you are Christian, then you are in trouble.'

A Nigerian man interviewed by Amnesty in Tunisia, March 2015
Christians in Libya are often subjected to abductions, torture, theft and physical assault by criminal gangs and people smugglers. Several have been executed.
Migrants and refugees held in official immigration detention centres – some of which still under government control – also face torture, rape and other ill-treatment.
'They beat us every day; sometimes they made us take our clothes of and sit in the sun for three hours. They made us work every day for no pay.'

A 17-year-old Gambian boy who was detained in an immigration detention centre in Gharyan
What we're calling for
The UK government and its European Union partners must protect human lives. It's essential they agree to strengthen search and rescue operations in the Mediterranean and the Aegean seas through a joint effort involving all EU countries.
We welcome the recent deployment by the UK of HMS Bulwark to assist in the search and rescue operations. It is essential that the EU together commits to sustained and effective operations while the current crisis persists.
Add your voice – tell the UK government to prioritise saving lives
We're also calling on European governments to ensure that safe and legal opportunities for refugees to access asylum are made available, and for the international community to urgently address human rights abuses and violations of international humanitarian law committed by all sides in Libya.