Kindertransport and Sir Nicholas Winton
London's Liverpool Street station is a familiar part of my life. I pass through it almost every weekday and emerge beneath Bishopsgate's steel and glass towers without a thought. Occasionally, I take a different route, onto Liverpool Street itself and past not one but two statues of commemoration to the kindertransport.
The main statue, in a small, slightly dishevelled piazza called Hope Square is magnificent, its five children radiating innocence, pride, defiance and curiosity.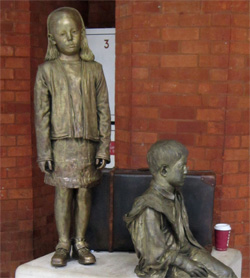 But Flor Kent's statue tucked away in a corner of the main concourse is perhaps the more poignant. It's small and depicts two young children. The girl, without her parents, looks sad. Her little brother looks bored. They are easily missed by the station's commuters. Small, still children in a big, busy world.
The statue was originally dedicated by Sir Nicholas Winton, who passed away yesterday. His memory is rightly being lauded for the role he played in the Czechoslovakian kindertransport. Thanks to his efforts, hundreds of Jewish children escaped to live life and give life to children of their own. His personal contribution is memorialised by another statue, in another station – Prague.
But there are others to remember beyond the determined leaders like Sir Nicholas and beyond the children themselves. They are the people who helped with the transport, who welcomed the children and the many, many families who gave them homes.
Sir Nicholas was an important man and I feel humbled by what he did. But he stood within a wide network of compassion that gave some small measure of hope amidst so much sorrow.
Today, just as every other day, the little girl seems sad, the little boy is bored and commuters walk past them both. This morning, beside them, was an empty water bottle, an everyday example of the universal sin of thoughtlessness.  But also there, by the little girl's feet, a small bouquet of fresh, yellow flowers.
The kindertransport was made necessary because leaders took a path of hatred, fear and barbarity and people were prepared to follow.
Look around the world and we see that path is still too well trodden, not least in the Middle East, where it has given rise to the biggest refugee crisis since the Second World War; a crisis that asks questions of us all. But today I look at the flowers and I think about Sir Nicholas and all those who shared in his compassion. Where compassion endures, so does hope. 
About Amnesty UK Blogs
Our blogs are written by Amnesty International staff, volunteers and other interested individuals, to encourage debate around human rights issues. They do not necessarily represent the views of Amnesty International.
View latest posts