Illustrator Ross Collins on choosing The Journey to win the Amnesty CILIP Honour 2017
Written by Ross Collins, Amnesty CILIP Honour winner 2016
It's always lovely to be asked to judge something. It means that other people are under the illusion that you know what you're doing.
I was so proud to win last year's CILIP Amnesty Honour and was delighted to be asked to help judge this year's award. One by one the books dropped through my door and I squirrelled them away out of the reach of my two-year-old son. Some books he will just have to wait for.
I enjoyed reading all of the books and fell in love with a few of them. I had to keep reminding myself of the Amnesty judging criteria. It was hard to admit that my favourite, Dieter Braun's beautiful Animals of the North didn't fit the judging criteria as well as others. Much as I tried I just couldn't shoe-horn those human rights in there.
The other judges and I met in April to fight to the death over our favourites. We did this with a steady supply of tea and biscuits. It turned out not to be a battle as we all loved the books for similar reasons, just a struggle to pick the most worthy winner. Nicky and Rowena reminded us of what we were really there for - not just because we liked the pictures. Jack was absent but had written a series of frighteningly clever observations to stop us in our tracks. Dan found it almost unbearable to lose any of the books. Manya brought wonderful insight from the children she had shared the books with. Amy floored us all with her passion and emotional attachment to the storytelling and I vaguely remember saying something about sausages.
I plaintively passed Dieter's book into the out pile and one by one we reluctantly did the same with other books that we loved but didn't best meet the criteria. We then had the hardest task of picking a winner from this wonderful list.
As Juan Sanchez Villa-Lobos Ramirez said - there can only be one.
We all loved Lane's There is a Tribe of Kids. Its exuberant style, its invitation to dance with nature and to find your own tribe. Its sheer energy.
William's The Wolves of Currumpaw is a wonderful achievement. Its evocation of the endless plains of America's old west is like nothing I've ever seen. Its strong environmental message really hits home and its redemptive ending is a rare lesson for children.
None of us had ever encountered anything quite like The Marvels. As a book it should almost have a category of its own. It's messages about different types of families and the right to be loved were very powerful.
The Journey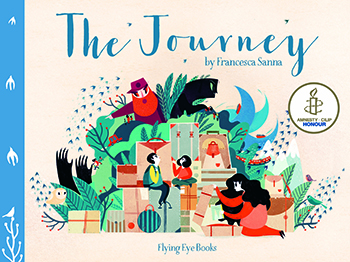 And then there was the elephant in the room. Francesca's The Journey. If ever a book should win the Amnesty CILIP Honour it should be this - shouldn't it? As a nominee it's almost too perfect, too obvious - and yet…
What Francesca Sanna has achieved with The Journey is really quite extraordinary. She has brought beauty to the ugliest of tales. You can't really get a darker subject matter for children than the horrors facing a refugee family. So if you are going to try to open that conversation with a child you have to use all the tricks you possess as an illustrator to coax them in.
As soon as I saw this book I wanted to pick it up and look inside. It's a beautiful thing. Francesca brings light, colour and style to the most difficult of imagery. A child losing its father to war, a family on the run from unseen forces, the obstacles that bar their flight. Francesca shows us the family's plight with warmth and subtlety. This family could be anyone, anywhere - they could be you. Ultimately it is a tale of hope over adversity which will not only open new doors for young readers but enchant them with its beauty. A most worthy winner.
Ross Collins' new picture book 'This Zoo is Not For You' is out this August.
About Amnesty UK Blogs
Our blogs are written by Amnesty International staff, volunteers and other interested individuals, to encourage debate around human rights issues. They do not necessarily represent the views of Amnesty International.
View latest posts