The Amnesty CILIP Honour winners 2016
At last! We're extremely proud to announce the inaugural winners of our Amnesty CILIP Honour:
In the Kate Greenaway Medal category, the winner is...
There's a Bear on My Chair, by Ross Collins
And in the Carnegie Medal category...
Lies We Tell Ourselves, by Robin Talley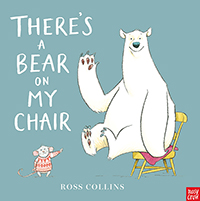 Choosing laugh-a-minute There's a Bear on My Chair for an Amnesty commendation may raise some eyebrows. But contrary to popular belief, human rights aren't doom and gloom – it's their abuse that is. And the little mouse in Ross Collins' entertaining picture book shows how to protest peacefully and creatively, which goes to the heart of what Amnesty does.
'There seems to be a lot of awards for children's books these days. There are some prizes and even some medals - but not so many 'Honours'. This is most definitely an Honour. To have my wee book about a smug polar bear and an angry mouse recognised by an organisation of the stature of Amnesty is a huge honour for me and I am both very grateful and proud.'

Ross Collins, author of There's a Bear on my Chair
Our judges loved the happy spirit and resourceful wit of this book.
'Packed full of joyous humour it ends with a surprising turn of the table, supporting children in growing their sense of empathy'

One of our judges, artist and storyteller, Maya Benenson
Watch children talking about the book: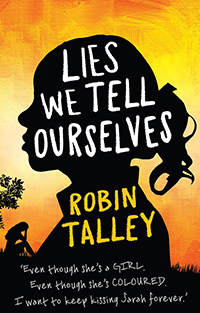 By contrast Lies We Tell Ourselves is a breathtakingly fast-paced and no-holds-barred exploration of discrimination. Set at a moment of American history when segregation was coming to an end but tensions still ran blazingly high, it tackles the hatred unleashed on a group of African American children entering a previously whites-only school. Added to racial bigotry is homophobia and gender discrimination – and the right to equal access to education is made crystal clear. It's a blistering eye-opener of a story.
'Portrays brilliantly the fight for the right to an education, and the human cost of asserting that right'

One of our judges, author Tanya Landman, Carnegie Medal winner 2015
Read Robin Talley's blog post on how fiction for teens helps combat hate crimes.
How did we choose?
The judges chose the books that we felt best best illuminate, uphold and celebrate human rights. We considered the Universal Declaration of Human Rights and the Convention on the Rights of the Child. It was a hard task because all the books engage with human rights in one way or another, but we had a ball.
For the picture books we whittled it down to a final three: Chris Riddell's The Sleeper and the Spindle, and Sidney Smith's Footpath Flowers battled it out with There's a Bear on My Chair.
All would have been worthy winners – The Sleeper and the Spindle upholds our rights to equality, while Footpath Flowers gently and beautifully illuminates how we can protect other people's freedoms. Ultimately we picked There's a Bear on My Chair because of its playful and subversive humour – poking fun at tyrants, however benign, just has to be done!
For the Carnegie books we argued long over a final four: One by Sarah Crossan, which takes an extraordinary and deep look at our rights to privacy, identity and equality; There Will Be Lies by Nick Lake, which explores identity (and what it means), reminds us that tyrants have rights too, and explores the little-cited right to the full development of our personalities; and Five Children on the Western Front by Kate Saunders, which movingly raises issues of war and peace, redemption (again, rights for baddies too) and equality.
Ultimately it was Lies we Tell Ourselves' direct engagement with overt racial and LGBT discrimination that swung it for us.
See some very enthusiastic teenage readers discuss it here:
Why does it matter?
The Amnesty CILIP Honour is the first children's books commendation to celebrate deep themes that are far too often ignored. The best books are more than plot and character: they have human rights at their core and are a vital tool in developing empathy. More than that, they can give children the awareness and confidence to stand up and shape a better world.
Our huge congratulations to winners Ross Collins and Robin Talley. You can buy their books here:
Buy There's a Bear on My Chair

About Amnesty UK Blogs
Our blogs are written by Amnesty International staff, volunteers and other interested individuals, to encourage debate around human rights issues. They do not necessarily represent the views of Amnesty International.
View latest posts