Scotland Activists Conference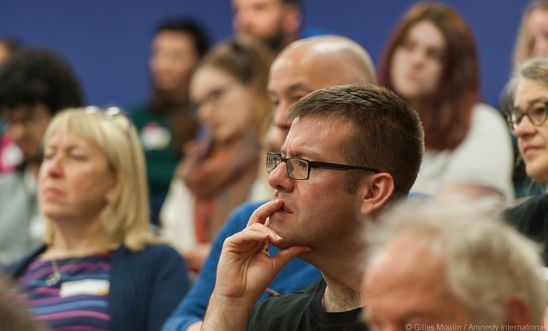 © Gilles Moulin / Amnesty International
Gabriel Calvert from the Dundee University Amnesty Group shares his experience of the Scotland Activists Conference
The Amnesty International Scottish Activist Conference was an inspirational gathering of likeminded activists from across the country. From Orkney to the Borders, human rights campaigners from across Scotland came together to discuss, learn, be inspired and generally improve their skills as human rights campaigners.
While the whole of the conference featured accomplished speakers and sessions that introduced new information and campaign ideas to the attendees, the most powerful and inspirational section of the conference was the keynote speech from Bonface Massah, the director of Association of People with Albinism in Malawi. His discussion of campaigning against deep seated prejudices in his country that have cost many lives was a moving look at the significant challenges facing human rights activists around the world. It was also a compelling demonstration of the importance of the work Amnesty groups do around the world even when they are not on the frontline in the same way people like Bonface are. His stories of the hope that Write for Rights letters provide to individuals and the effects that they had on the Malawian Government remind activists that while it may often feel they are working in isolation or that they are not having a direct effect that they are part of a global movement that does make a real impact on the lives of individuals and in effecting real change in the world.
This was the perfect way of introducing Amnesty's new BRAVE campaign which focuses on people just like Bonface, those that are in danger due to the work that they do for human rights. Activists were introduced to the campaign, the key cases and how they could take action. There was then a photo taken to show solidarity with the Istanbul 10 including staff of Amnesty Turkey recently arrested for the work that they do.
After lunch activists were able to take part in sessions they had signed up to where they could develop their understanding of individual campaigns and their skills for taking action. These sessions provided activists a chance to ask any questions and talk to people that were experienced campaigners.
Once these sessions had concluded, there was a roundup of the work that Scottish activist had done throughout the year. This was yet another demonstration of how activists were part of a huge network fighting for human rights around the world. There was then a session passing on information from the Amnesty AGM with regard to campaign updates. After this there was a final action to show solidarity with Nazanin Zaghari-Ratcliffe, who is currently imprisoned in Iran.
Overall the conference was an inspirational reminder of the global campaign that we are all part of and of the power and importance of the work that Amnesty International does.
About Amnesty UK Blogs
Our blogs are written by Amnesty International staff, volunteers and other interested individuals, to encourage debate around human rights issues. They do not necessarily represent the views of Amnesty International.
View latest posts