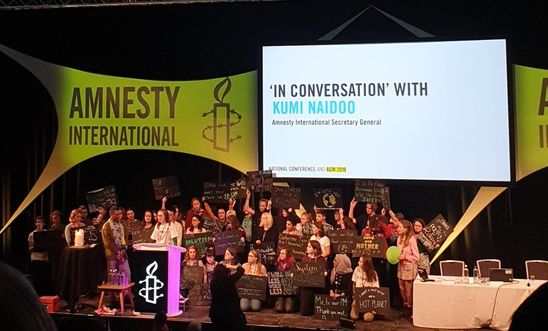 Kumi Naidoo and climate activists at the AGM © Gabriel Calvert
This blog was written by Gabriel Calvert, Amnesty Scotland volunteer and member of the Dundee Amnesty local group
I recently had the great privilege of attending the 2019 Amnesty International UK Conference and AGM. It was my first time at this prestigious event and my message to anybody who has ever considered attending but never has is simple; if you can go, then go. It is a weekend long celebration of human rights and human rights activists where you will meet amazing people, learn about the inner workings of Amnesty and have your say on the future of our movement. Here are a few of my personal highlights:
Throughout the whole weekend the Action Centre was open to all conference attendees. Here you could talk to and take actions with people at the heart of Amnesty campaigns from country coordinators and volunteers heading networks, to representatives from Scotland and Northern Ireland, and creative stalls where materials were being designed for direct actions. This was the focal point of the weekend where old friends reunited, new friendships blossomed, and chance encounters led to potential future cooperation across the country.
Alongside these freeform discussions there was a range of structured discussions taking place in workshops ranging from Children's Rights, Anti-Death Penalty, Welcoming Refugees, the impact of Austerity on Human Rights and many more. These gave activists the chance to learn more about Amnesty's work on these issues, develop actions they could take on them going forward, and feedback to staff about where the campaign could go in the future.
Not only did activists discuss issues with each other, they also heard from a range of speakers whose work inspired all in attendance to continue their activism and push for it to be bigger and better than ever. We heard from a panel of youth activists chaired by the amazing Amal Azzudin, one of the Glasgow Girls and an activist for human rights and social justice in Scotland, which featured Lyndsay Burtonshaw, one of the Stanstead 15, Nils O'Hara, co-founder of Jangala, and Hannah Orr, a prominent campaigner for Abortion Rights in Northern Ireland. This panel highlighted the power that our actions can have and the importance of innovation in activism. They spoke about the challenges that face people standing up for human rights but also of the many relationships they have built along the way and as Amal said:
If activists do not talk, who will?
The final highlight I will mention, though of course there was much more, was the speech of the new Secretary General of Amnesty International Kumi Naidoo.
Kumi's stories of his activism through the years growing up in apartheid South Africa and working with many civil society organisations across the world, his discussions of his desire to grow the Amnesty movement, and his support of young activists to challenge the status quo of the organisation received a standing ovation and inspired us all to continue to work towards the world that we want to see where human rights are available to all. This will not be easy, and we will face many challenges but as Kumi said:
If not us, who? If not now, when and if not here, where?
About Amnesty UK Blogs
Our blogs are written by Amnesty International staff, volunteers and other interested individuals, to encourage debate around human rights issues. They do not necessarily represent the views of Amnesty International.
View latest posts