Abortion Rights in Northern Ireland Student Action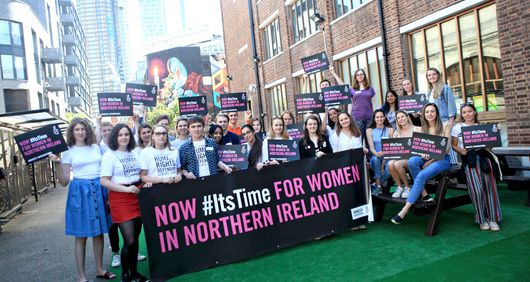 Despite being a part of the UK, abortion is illegal in Northern Ireland in almost every circumstance, including when the pregnancy is a result of rape or incest, and when the foetus has a fatal abnormality that means it would not survive outside of the womb. Women from Northern Ireland are forced to travel to the other parts of the UK, and sometimes further, to access this basic healthcare.
On the 26th November students across the UK and the Republic of Ireland will be taking action on their campus' to call attention to the cruel and dehumanising abortion laws in Northern Ireland. They will be calling upon Westminster to legislate in the absence of a Northern Irish Government. They will also be showing solidarity with the Northern Irish activists who fight daily for abortion reform, and also to the women and pregnant people oppressed under this law.
Below you will find our action briefing which outlines what your group can do, a Q&A on the issue, petition sheets and a sign to use on your action.
If your group is getting involved please let us know by emailing James (james.farndon@amnesty.org.uk) and Hannah (hannah.orr@amnesty.org.uk)
Contacting your university/local media:
Edit the press release to make it relevant to your activities.

When to send it

: there is a pre-event press release to send if you'd like to encourage media to come along and cover the event, or a post-event press release if you'd like to send them the news story and pictures after the event.

Who to send it to

: send it to your campus newspapers, radio and TV stations. They should have contact details listed online. You could follow up with a phone call. If your event was quite big and you think local media might be interested, you could also send the press release to your town/city's local newspapers. Their contact details will be online.

Think about what media might need:

will there be a spokesperson? will there be a good photo opportunity? why's this a significant story now and why's it significant to students? will you be able to tell them how many people signed the petition?

Remember to take pictures

of the event.

In communication with local media talk on behalf of an Amnesty International student group rather than Amnesty UK to show that this is student led activity.

If you have any questions or would like advice, and if you need help finding out what your local outlets are and their contact details, Ella in Amnesty's Media Team will be able to help: ella.berny@amnesty.org.uk.