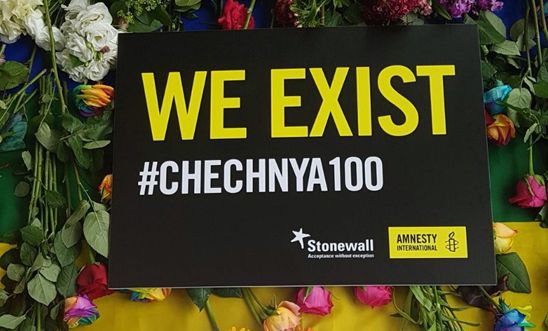 Placard with the words 'We Exist #Chechnya100' atop flowers and the rainbow flag © Jonathan Cornejo
This blog was written by Simon Ware, Chair of Amnesty UK's LGBTI Network
One year ago, troubling reports claiming the abduction and torture of gay and bisexual men started to emerge from Chechnya.
Journalists at the Russian independent daily newspaper, Novaya Gazeta, reported that over a hundred men had been abducted as part of a coordinated campaign over the course of a few days last spring.
Not only were the men reportedly tortured and otherwise ill-treated, they were forced to disclose the identities and whereabouts of other LGBTI individuals known to them.
All the while the Chechen authorities denied the very existence of gay and bisexual men in Chechnya, and even ordered what the police call 'preventive mopping up' of people they deem 'undesirable'.
'A year ago, this shocking news from Chechnya was ridiculed and dismissed by the Russian government.

Since then we have witnessed a shocking display of denial, evasion and inaction by the authorities, who have repeatedly refused to launch an official investigation into the reported heinous crimes and ignored credible evidence provided by Novaya Gazeta and others.'

"Victims of such crimes have generally had to rely on Russia's human rights community, who have provided support and safety to individuals hunted down in Chechnya and ignored by the authorities elsewhere in Russia.'

'The tireless work of human rights defenders, including from the Russian LGBT Network, has resulted in 116 people being safely relocated from Chechnya, 98 of whom have left Russia.'

Denis Krivosheev, Deputy Director for Eastern Europe and Central Asia at Amnesty International
Soon after, we launched an online petition calling on the Chechen authorities to investigate these claims and to safeguard all members of the Chechen LGBTI community. Over half a million of you joined us and called for an end to the persecution.
As chair of the Amnesty UK LGBTI network, I also spoke at an event at the Russian Embassy hastily organised in partnership with Pride in London. Many Pride organisers around the UK organised similar events.
In June, working together with Stonewall, we handed in 172,000 signatures to the Russian Embassy. We were joined by the likes of actor Sir Ian McKellen, politician Michael Cashman, Mark Oakley (Chancellor of St Paul's Cathedral), musician Tim Arnold and Trudy Howson (the LGBT Poet Laureate).
Throughout Pride season we promoted the campaign with thousands of postcards collected, and the message was simple: #WeExist.
Did it work?
As is the question with any campaign– did it work? Well, it definitely turned the global spotlight on Russia and Chechnya. Reports suggest that the abductions have largely reduced over time, although a number did take place last autumn.
However, we are still awaiting an impartial and thorough investigation. The Chechen government still won't admit that gay or bi men even exist in Chechnya. A number of LGBTI refugees from Chechnya have found new places to call home around the world. However, even in their new lives they have too frequently faced persecution, while their families at home have been threatened.
'Over the past year, the Russian LGBT Network and Novaya Gazeta have undertaken the work the state was supposed to do. We have ensured the safety of victims and collected and publicised their testimonies.'

'But one thing we could not do is launch an investigation and ensure criminal prosecution of the perpetrators. The Russian authorities, apparently, do not want to do this.'

Igor Kochetkov, founder and council member of the Russian LGBT Network
We therefore continue to urge the British government and others to step up and provide safety and refuge to LGBTI people in Chechnya. Your collective voices have certainly made a difference to their lives but there's still much more to be done. We will  keep up our campaign for justice and for an end to the persecution of LGBTI people in Chechnya, and more widely in Russia.
Mark the date
Help us mark this anniversary with a message on social media with an image of a flower and the hashtags #ChechnyaOneYearOn and #100forJustice. Or feel free to use the exmaple below.
I urge the authorities to stop the persecution of LGBTI people in #Chechnya #ChechnyaOneYearOn #100forJustice.
Vigil
On April 7, people around the world will come together to let the Russian and Chechen authorities know the world is still watching, and waiting for justice for the LGBTI community in Chechnya.
Join us in front of the Russian Embassy in London at 2pm for a Global Speak Out for Chechnya!
To do more to fight for the rights of LGBTI people in Chechnya and around the world, join our LGBTI network.
About Amnesty UK Blogs
Our blogs are written by Amnesty International staff, volunteers and other interested individuals, to encourage debate around human rights issues. They do not necessarily represent the views of Amnesty International.
View latest posts