8 ways we've resisted Trump's attacks on human rights since he was elected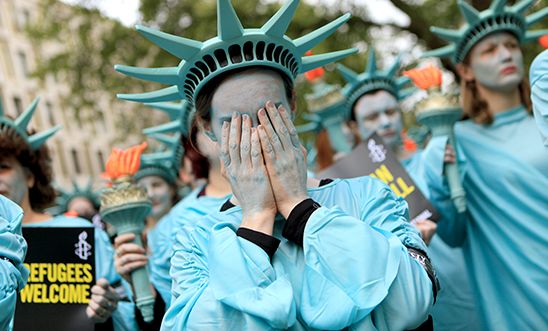 By Alli McCracken, Amnesty International Campaigner for North America
It's already been a whole year since Donald Trump was inaugurated as President of the United States, and the effects of his presidency have been felt throughout the world ­­– and not in a good way. Here are 8 ways activists have tirelessly fought back over the last year against his administration's many, many attempts to undermine the protection of human rights.
1. We've fought back against the "Muslim ban" every time 
Chants of "Let them in!" rang through airport terminals across the country when thousands gathered to protest Trump's attempts to block people from several Muslim-majority countries from entering the US. In pursuit of his campaign promise to deliver "a total and complete shutdown of Muslims entering the United States," Trump's state-sanctioned discrimination against Muslims has created chaos and confusion, torn families apart, and stoked fear in the US. Activists pushed back, taking to the streets to denounce xenophobia and Islamophobia, in solidarity with our Muslim neighbors.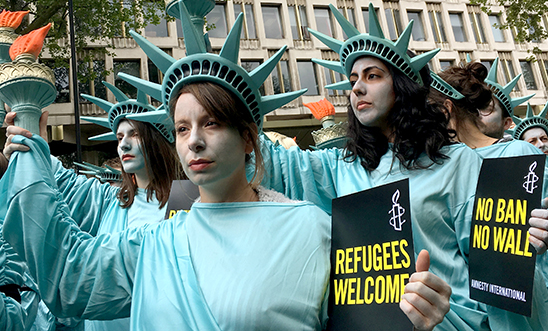 We even protested in London where 100 activists assembled outside the US embassy dressed as Lady Liberty in support of refugees and to show that discriminatory policies won't be tolerated.
2. He slammed the door on refugees, and we welcomed them
While New York's Statue of Liberty bears a tablet that reads "Give me your tired, your poor, your huddled masses yearning to breathe free," the Trump administration's attitude toward some of the world's most marginalised populations seems to be the opposite. Trump announced a 120-day freeze on refugee entry into the US at a time when the highest number of people since World War II are in need of international protection. That includes 22.5 million refugees, over half of whom are under the age of 18. 
In response to such a regressive policy, there has been amazing resistance. On the 4th of July, Independence Day in the US, planes could be seen flying overhead in Los Angeles and New York with banners exclaiming "REFUGEES WELCOME".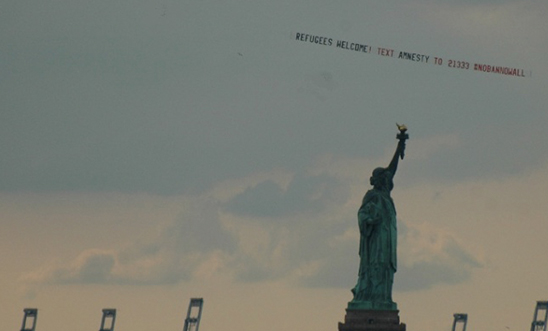 Thousands of activists and artists in over 200 cities in 60 countries around the world also responded to xenophobic comments from the US administration with small secret concerts in their homes to raise awareness about welcoming refugees. Sounds cool? It was.
3. Massive civil disobedience erupted when the Trump administration suspended DACA
In the past year, Trump's immigration policies have targeted marginalised populations, including unaccompanied children. Families have been ripped apart at the border or thrown behind bars in family detention centers. 
This is possibly no more so evident as with the Trump administration's announcement that it planned to scrap DACA, a programme that gives temporary protection to about 800,000 undocumented immigrants who arrived in the States as children.
Basically, President Trump's message to immigrants and asylum seekers? Get out, and stay out.  
The Dreamers (i.e. those protected by DACA) took Washington DC by storm with direct actions and civil disobedience, demanding their rights. Activists around the world have also stood up for asylum seekers asking for safety in the US, calling on immigration authorities to end cruel practices such as jailing families, and separating children and their parents at the border, and jailing children.  
4. Millions joined the Women's March
Many of us will have heard shocking audio recordings exposed during the 2016 presidential campaign of Trump making horrible comments about "grabbing" women by their genitals. 
This quickly translated into policy: on his third day in office, President Trump reinstated and dramatically expanded the Global Gag Rule, a deadly ban on US foreign aid that affects millions of women and girls globally. These global aid restrictions apply to a wide range of US global health assistance, threatening funds for contraception, abortions, safe motherhood, treatment of HIV/AIDS, Zika, Ebola and other infectious diseases.
The dangerous policy has had a grave impact on the sexual and reproductive rights, health and life of women and girls across the world, especially those who are most at risk of human rights abuses.
But we weren't going to take it lightly. The day after Donald Trump was inaugurated, millions of people joined Women's Marches across the globe, demanding women's right in the US and around the world.
We stand together #againsthate. Are you with us? #WomensMarch pic.twitter.com/vsy1DMf5yX

— Amnesty UK (@AmnestyUK) January 21, 2017
5. We condemned the terrible decision about the Dakota Access Pipeline
President Trump's decision to disregard the serious concerns of Indigenous people about the Dakota Access Pipeline is an unconscionable attack on human rights.
After former President Obama halted construction of the pipeline to ensure a full environmental impact study was conducted, Trump then scrapped the study and moved the pipeline through. We repeatedly called for the President to carry out the full environmental impact study and to ensure that indigenous peoples' rights were respected. As the pipeline was built anyway, activists continue to pressure President Trump to ensure the rights of Indigenous people.
6. We have worked to stop unlawful killings by police 
Inspired by the Black Lives Matter movement, activists are working to pass legislation in states restricting the use of deadly force by police in line with international standards.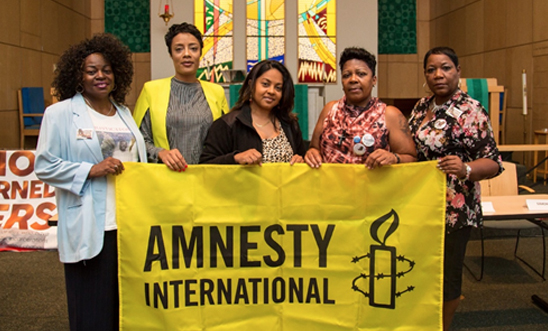 Advocates have called for investigations into potentially unlawful killings, and called on the US government to implement the Death in Custody Reporting Act, to ensure accurate documentation of the number of people killed by police in the US each year. Find out more.
7. We're documenting the ways Trump is pouring fuel onto the fire in Yemen
Former President Obama sold billions of dollars' worth of weapons to Saudi Arabia, which it has used to commit crimes under international law, including war crimes, as well as human rights violations in Yemen. But there are some weapons that President Obama wasn't even willing to sell to the Saudi government. Under the Trump administration, restrictions on these weapons have been loosened, and arms sales to the Saudis are booming even more than usual.  
Meanwhile, the conflict in Yemen has left more than 10,000 people dead, displaced over two million people, and caused severe famine – in large part due to military operations by the Saudi-led coalition.
The world was horrified by a viral photo that showed a young girl named Buthania trying to pry open her badly bruised eye after a Saudi air strike. We later documented that the bomb that killed seven members of Buthania's family – including her parents and nine other people – was made in the US. 
8. We've pushed back against calls to send people to Guantánamo and bring back torture
January 11 2018 marked 16 years since the opening of the notorious detention facility at the US naval base at Guantánamo Bay. Every year since, human rights activists have called for the fair trial or immediate release of those detained there and for closure of the facility by protesting. This year, there was also an announcement of a lawsuit against the US government on behalf of 11 of the detainees. Over the years, Guantánamo has come to symbolise torture, rendition and indefinite detention without charge or trial, and its closure is long overdue.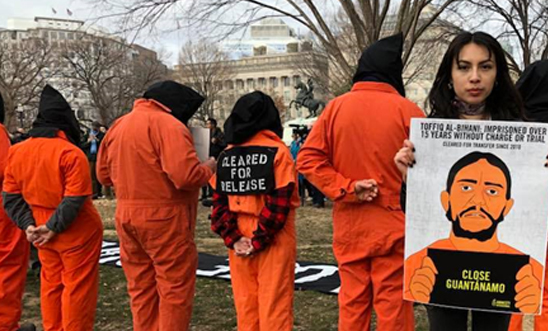 President Trump's first year might have been grim, but don't despair. Get inspired by the growing resistance movement, and take action. Join Amnesty International to fight back against racist, xenophobic, war-mongering policies.
About Amnesty UK Blogs
Our blogs are written by Amnesty International staff, volunteers and other interested individuals, to encourage debate around human rights issues. They do not necessarily represent the views of Amnesty International.
View latest posts