How President Trump has threatened human rights in his first 100 days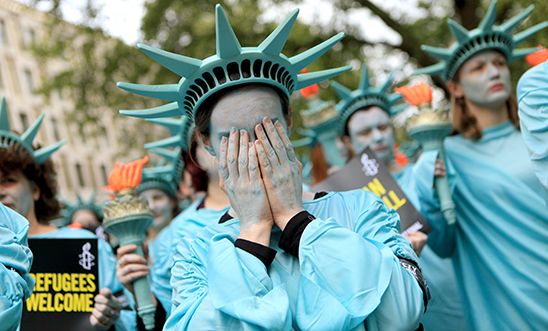 Amnesty International demonstration outside the US embassy to mark 100 days © Marie-Anne Ventoura
As Donald Trump's first 100 days in power come to a close, we've rounded up some of the ways he has threatened human rights in the US and around the world.
The threat to our rights and freedoms still remains – but so does our persistence to protect them. Join us in the fight during the next 100 days - and beyond!
1. Attacks on women's rights
On President Trump's third day in office, he issued an executive order reinstating and expanding the Global Gag rule — a rule that prohibits US international aid to groups that so much as educate their communities on safe abortion. His actions will likely cause an increase in maternal death rates around the world.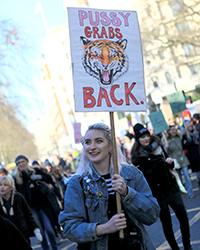 The president didn't stop there.
On April 13, he signed a bill allowing states to withhold federal money from organisations that provide abortion services, including Planned Parenthood.
It means thousands of people—particularly women and girls on low incomes—can't access basic healthcare, including cancer screenings, pregnancy health, birth control, and safe abortion services.
He's also revoked workplace protections for women that ensured equal pay, fair processes on workplace sexual harassment, and protection of parental leave.
2. Shutting the door on refugees and Muslims
President Trump has stopped refugees from entering the US for 120 days. The cost in human lives is stark: 47,000 acutely vulnerable refugees will be stranded.
People who have waited years and gone through the vetting process will have their background checks expire, forcing them to redo the entire process, prolonging their time spent in danger and separated from their families. For some that could be a death sentence.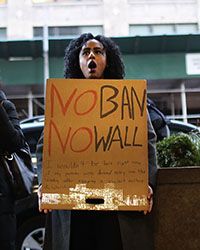 President Trump's executive orders banning people from Muslim-majority countries tried to write bigotry into law. Instead the Muslim ban energised a new movement. Following the protests that occurred around the world, the Trump administration was forced to go on the defensive, withdrawing the first order and issuing a second that is now tied up in courts.
However we continue to hear reports of people being questioned about their religion and political opinions at airports. That includes citizens like Muhammed Ali Jr.
The ban also demonises refugees as criminals and supporters of terror by focusing on false premises about the insecurity of the refugee system. If the US government does not know who a refugee is, they are not admitted. It's as simple as that.
Take action – call on the White House to stop the Muslim ban
3. Hate crimes and harassment
As the climate of hate and discrimination persists, fear and uncertainty for American Muslims continues too. President Trump's Muslim ban and inflammatory rhetoric appear to have emboldened Islamophobic behaviour and attitudes – attacks on mosques doubled in the first three months of 2017.
White House Press Secretary Sean Spicer has repeatedly hesitated and fumbled over questions about reports of hate-based harassment and violence against Muslim, Jewish and other communities, failing to condemn it outright.
4. Supporting human rights abusers
The president consistently ignores human rights abuses outside the US – in some cases even praising leaders. From claiming Egyptian president al Sisi is doing 'a fantastic job' despite a crackdown on civil society, to encouraging the Filipino President Duterte to continue his extrajudicial executions of drug users and dealers – President Trump's actions and words are emboldening human rights abusers.
The US is also arming human rights abusers by selling weapons to Bahrain and Saudi Arabia – both are in a military coalition that has repeatedly violated international humanitarian law in Yemen.
5. Violating indigenous rights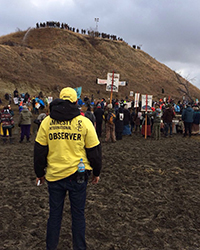 President Trump has trampled on the rights of Native Americans at Standing Rock by granting permission for the Dakota Access Pipeline to drill under the Missouri River north of Standing Rock, threatening the water source for the Standing Rock Sioux and other downriver tribes.
It would be a violation of their rights and sovereignty over their land.
6. Rolling back LGBTI rights
In February, the president revoked landmark guidance that directed public schools to let transgender students use the bathrooms that matches their chosen gender identity. For transgender children, who already face violence and harassment, the bathroom is not a safe place, and this rollback puts them at increased risk for violence and harassment.
He also withdrew workplace protections that require companies that contract with the federal government to show that they don't discriminate on the basis of sexual orientation or gender identity.
This anti-LGBTI agenda is being worked into the US government at the highest levels by sending an anti-LGBTI delegation to the UN women's rights conference and giving senior roles to those with a history of opposing protections for LGBTI communities.
7. Undermining the right to protest
President Trump has been outright hostile toward those expressing dissent, implying that his critics should be punished or silenced. Peaceful protest is a human right that must be respected, protected and fulfilled.
Journalism is central to a free society, transparency, truth and accountability. President Trump's taunting and intimidating rhetoric towards the press appears dangerously close to violating their rights.
He also seems to believe his own free speech rights are more important than those protesting. President Trump's lawyers argued that while protesters also have a First Amendment right to express dissenting views, they do not have that right to interrupt a campaign rally. The arguments set an ominous precedent for how the president interprets freedom of expression.
We've been protesting for over 50 years and we aren't going to stop now. That's why we marched 100 crying Statues of Liberty to the US Embassy in London to mark President Trump's 100 days of human rights failures.
100 protesters dress as Statue of Liberty in anti-Trump demonstration https://t.co/CChEbo2DHJ

— Evening Standard (@standardnews) April 27, 2017
This is what 100 Statues of Liberty look like @realDonaldTrump. #NoBanNoWall #100days pic.twitter.com/bcujX9IBl7

— Amnesty UK (@AmnestyUK) April 27, 2017
100 days of Trump: @AmnestyUK highlighting human rights violations made during his administrationhttps://t.co/uZxy4c5ufC

— Laurie Hanna (@LaurieHanna) April 27, 2017
8. Promoting the use of torture
Donald Trump is a president who supports torture. While on the campaign trail, he expressed support for torture multiple times, pledging to bring back 'a hell of a lot worse' than waterboarding. In late January, President Trump declared on national television that torture 'absolutely works'.
We have seen no willingness to address the human rights crisis at Guantánamo, where 41 people remain locked up without charge or fair trial, potentially until they die. The president even pledged to 'load it up with bad dudes' – dangerous rhetoric that risks becoming reality.
9. Cutting funds to a world in crisis
The government is trying to slash its funding to the United Nations, including humanitarian and peacekeeping missions. It's all part of a larger 'America First' agenda that signals a retreat from humanitarianism. The Trump administration was a no-show at the March session of the Inter-American Human Rights Commission, underscoring a general contempt for human rights in the region and internationally.
10. Climate change
By abandoning steps to address climate change and its effect on human rights, the future of the global environment and the human rights of millions of people are at stake. The president has halted efforts to tackle climate change in the US and overseas, and taken steps to stop measures to reduce greenhouse gas emissions.
We've been fighting the bad guys since 1961 and we aren't about to stop now.
Join us on Trump Watch for breaking news, expert analysis and urgent actions you can take to fight President Trump's assault on human rights around the world.
About Amnesty UK Blogs
Our blogs are written by Amnesty International staff, volunteers and other interested individuals, to encourage debate around human rights issues. They do not necessarily represent the views of Amnesty International.
View latest posts