Why Palestinians risk their lives for their rights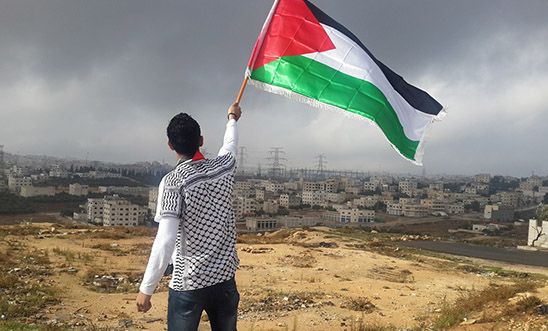 © Wikimedia commons
Yesterday the people of Gaza, like all Palestinians worldwide, marked the 70th anniversary of the Nakba – catastrophe in Arabic – remembering the moment over 750,000 Palestinians fled or were forced from their homes in what became Israel.
For over a decade Israel has maintained an illegal blockade on Gaza, trapping Palestinians with dwindling resources and an economy in ruins. So over the last few weeks Palestinians in Gaza have marked the Nakba by demanding their rights. They are resisting this illegal blockade through sit-ins, concerts, sports games, speeches and other peaceful activities. Israel's response has been to mount a calculated and murderous assault against protesting Palestinians, with its armed forces killing and maiming dozens of demonstrators who pose no imminent threat.
Bloodiest day in four years
On Monday 14 May alone, the Israeli military killed at least 58 Palestinians and injured more than 2,400. Some of these appear to be deliberately inflicted life-changing injuries. 
This was the deadliest day in Gaza since the 2014 conflict. Thousands more have been injured since the weekly Friday protests began on 30 March. In most of the fatal cases that we analysed, victims were shot in the upper body, including the head and the chest – some from behind. Eyewitness testimonies, video and photographic evidence suggest that many were deliberately killed or injured while posing no immediate threat to the Israeli soldiers.
Doctors at the European and Shifa hospitals in Gaza City told us that many of the serious injuries they have witnessed are to the lower limbs, including the knees, which are typical of war wounds that they have not observed since the 2014 Gaza conflict. Military experts and forensic pathologists have confirmed that Israeli soldiers are using high-velocity military weapons designed to cause maximum harm to the human body. These deliberate attempts to kill and maim Palestinian protestors are sickening and completely illegal. This is why we are calling on governments worldwide, including the UK government, to impose a comprehensive arms embargo on Israel.
The violence and bloodshed that we are seeing on the Gaza border must stop. The international community must put more pressure on Israel to immediately end its disproportionate use of force against Palestinians in Gaza, and at protests throughout the Occupied Palestinian Territories. Governments must all do more to ensure that the weapons they're selling to Israel are never used to violate the human rights of Palestinians.
Importantly, Israel must also be held accountable for all the human rights abuses it has committed over the last 70 years.
 70 years of human rights abuse
In 1948 over 750,000 Palestinians fled or were forced from their homes. They were fleeing conflict and violence – 600 Palestinian villages were sacked during this period. They fled to neighbouring states, and 70 years later they and their descendants are still refugees. Like all other refugees, Palestinians deserve to be able to determine their own futures and choose to return to their homes.
Since the Nakba Palestinians have endured countless horrific human rights abuses. Human rights defenders have been unjustly detained and arrested. Israeli forces have unlawfully killed thousands of Palestinians, including children. Torture and ill-treatment of Palestinian detainees, including children, continues rampant and unchallenged – over 300 Palestinian children, including Ahed Tamimi, are currently detained by Israeli authorities, completely breaking their duties under international law.
Israel's policy of illegally settling Israeli civilians on occupied Palestinian land has led to tens of thousands of Palestinian homes being demolished and hundreds of thousands of Palestinians have been forced to flee their homeland. Israel has imposed arbitrary restrictions depriving Palestinians of access to and use of their own water, land and other resources; restricting their economic development and violating their economic and social rights.
Building international pressure
All states have a clear obligation to ensure respect for international humanitarian law across the globe. As such, they must not recognise or assist in any way the illegal situation created by Israel's settlement policy and its use of lethal force against protestors. In fact, they should use their influence to stop such violations.
Israel has committed multiple war crimes. The international community can and must do more to hold them to account and to ensure that Palestinians have justice through international law. To achieve this, pressure must be put on governments around the world to better deal with Israel and the Occupied Palestinian Territories.
After 70 years of human rights violations since the Nakba we must stand with Palestinians to hold Israel to account for its crimes.
We must all stand in solidarity with Palestinians in Gaza and across the Occupied Palestinian Territories who are fearlessly risking their lives to stand up for their rights. And we must put an end to this bloodshed by pushing our governments to stop arming Israel.
 
About Amnesty UK Blogs
Our blogs are written by Amnesty International staff, volunteers and other interested individuals, to encourage debate around human rights issues. They do not necessarily represent the views of Amnesty International.
View latest posts