When football welcomed refugees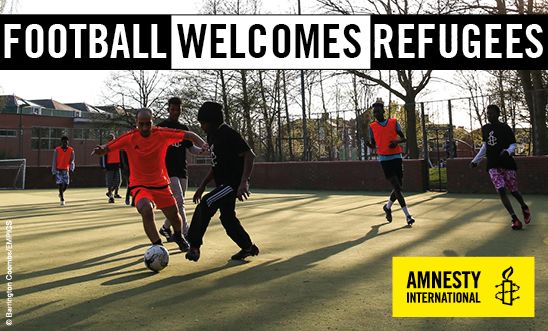 Football welcomes refugees
By Naomi Westland, Press & PR Manager at Amnesty UK
Eighty years ago today, when General Franco ordered Nazi planes to drop 22 tons of explosives on Guernica during the Spanish Civil War - killing hundreds of civilians and leaving the historic Basque town in ruins - he committed an atrocity that would become an enduring symbol of the horrors of war and inspire Picasso to create one of his most famous paintings - 'Guernica'.
Thousands fled the bombs raining down on the Basque Country, yet the British Prime Minister at the time, Stanley Baldwin, refused to take in any Spanish refugees. He claimed the climate 'wouldn't suit them' and that to do so would be to breach a non-intervention pact.
 

'Guernica' by Pablo Picasso
But when news of what had happened in Guernica reached British newspapers, a public outcry convinced the government to finally open its doors – to 3,860 unaccompanied child refugees.
They arrived in Southampton from Bilbao on a recommissioned cruise ship, the Habana, a few weeks later. This gesture, however, did not come with any funding so it was the British public too who then welcomed the children into communities all over the country.
To help raise funds for their upkeep, the girls would put on performances of Basque dance, and the boys played football matches against other local teams. The practice clearly served them well, as six of the boys would go on to become professional footballers here, making them some of the first refugees ever to play in the English league - with clubs including Southampton, Coventry City, Wolves, Cambridge United, Brentford and Norwich.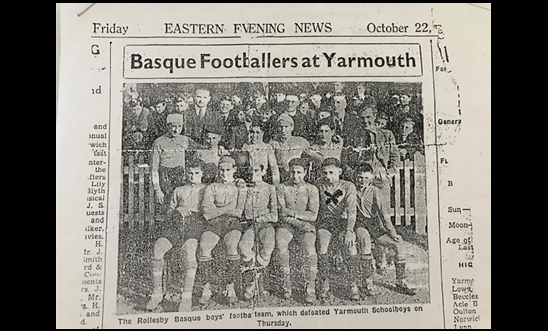 © Basque Children of 37 Association
Earlier this year, Amnesty started to invite football clubs across the country to take part in a new initiative called Football Welcomes on 22-23 April, to mark the anniversary of their arrival and to celebrate the contribution refugees make to football and to their wider communities.
We didn't know what the response would be like and aimed to get ten clubs on board. But last week and over the weekend more than 30 football clubs in England joined in, putting on various activities including matches for refugees or free tickets to a game for refugees living locally.
They included at least eight Premier League clubs, and we were delighted to have the backing of the English Football League and the FA Women's Super League.
How football clubs welcomed refugees one weekend in April
Leicester City organised a match for young refugees. Hull did the same and invited them to their game against Watford afterwards, while Watford's Valon Behrami spoke exclusively to Amnesty about his family's harrowing experience of fleeing Kosovo to Switzerland in the 90s and the role football played in helping him settle in to a new country.
He said: 'sport is one of the best solutions to integration', and he called for solidarity with refugees.
'I see now the extreme situations in some places in the world," he said. "We should just be ready to help.' Valon Behrami
Meanwhile, young Syrians and Afghans in new hot-off-the-loom Amnesty t-shirts saying 'Football Welcomes Refugees' formed the guard of honour bringing the players onto the pitch at Brentford as they took on local rivals QPR at Griffin Park on Saturday.
We had a great day out celebrating #footballwelcomes despite the result! Thanks to @NCCBrent @amnesty for allowing us to make it happen! pic.twitter.com/pyZRb8xIek

— QPR in the Community (@QPRtrust) April 22, 2017
Newcastle, at home to Preston on Monday night, invited 30 refugees to the game - the first time the club has done anything like this – to witness Rafa Benitez's team secure a return to the top flight. For its part, Preston is organising a stadium tour for 60 refugees living near their ground in the next few weeks.
 
Cambridge United, Bath City and Southampton invited refugees to home games, while Notts County invited the first team manager and two players to come along to their community football sessions for refugees.
Clubs around the country posted and tweeted about Football Welcomes using the hashtag #FootballWelcomes
 
Everton, meanwhile, used the opportunity to talk about the impressive work its community trust does with refugees and asylum seekers.
It wasn't just league clubs – grassroots football project Yorkshire St Pauli and City of Liverpool FC got behind Football Welcomes too. We are delighted that at least four clubs have now said they'd like to start or expand their work with refugees.
 
A brilliant game of football with @infostaugs as part of #FootballWelcomes @AmnestyUK #RefugeesWelcome pic.twitter.com/KiURJ2m9Va

— Yorkshire St. Pauli (@YorksStPauli) April 22, 2017
As well as Behrami, Premier League players Crystal Palace's Christian Benteke and Stoke City's Saido Berahino publicly backed the initiative. The managers of Preston, Cambridge and Notts County, and AFC Wimbledon's captain Paul Robinson also pledged their support.
 
Famous football fans and Amnesty supporters Patrick Stewart, Stephen Fry and the Kaiser Chiefs and actor Juliet Stevenson, who appeared in hit football film Bend it Like Beckham, also added their names.
As @NorwichCityFC Ambassador I am delighted to support @AmnestyUK 's #FootballWelcomes https://t.co/6kiFjRFJjz

— Stephen Fry (@stephenfry) April 22, 2017
Proud to support @AmnestyUK's #FootballWelcomes, a brilliant celebration of refugees & football https://t.co/VvJXDl1okQ

— Kaiser Chiefs (@KaiserChiefs) April 22, 2017
Thrilled @HTAFCdotcom is celebrating the contribution of refugees to the beautiful game #FootballWelcomes @AmnestyUK https://t.co/dWJ1xEeiN5

— Patrick Stewart (@SirPatStew) April 22, 2017
It's been a fantastic weekend and hopefully just the beginning.
Over the next few months we'd like to work with some of the clubs that have taken part to help develop their work with refugees, before we start planning for Football Welcomes #2. Who knows, maybe next year we'll take it to Europe!
Just before the final whistle, it's well worth reading this piece from the Bath Chronicle, which captures perfectly what Football Welcomes is all about and the impact this initiative has had in making refugees welcome in their communities.
The Spanish Civil War footballers
Emilio Aldecoa, who was 14 when he boarded the SS Habana in Bilbao, turned out to be a skillful left-winger. In 1943 and aged 20, he was spotted by a scout for Wolverhampton Wanderers. He proved to be an effective signing, finishing the season as Wolves' top scorer, with 11 goals in 30 games. He moved to Coventry for two seasons in 1945, before returning to Spain to join Athletic Bilbao and then later, Barcelona. He played once for Spain, before coming back to the UK as assistant manager of Birmingham City in 1960.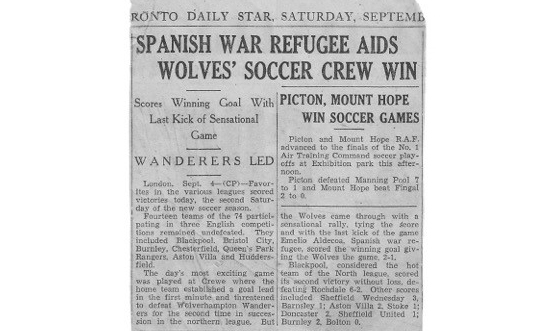 © Basque Children of 37 Association
Meanwhile, five others were making their way into the English game – Jose Bilbao joined Aldecoa at Coventry for the 1945-46 season, and Sabin Barinaga signed as a forward with Southampton's reserves, before returning to Spain and Real Madrid, scoring the first ever goal in the newly-built Bernabeu stadium in December 1947. Raimundo Perez Lezama played in goal for Southampton, and Antonio Gallego took up the same position at Norwich. His brother Jose, played on the wing for Brentford, Southampton, Colchester United and Cambridge United.
Football Welcomes is part of Amnesty International's I Welcome campaign for a better international response to the global refugee crisis.  The campaign encourages local communities to work together to create a more welcoming environment for people fleeing conflict and persecution.
About Amnesty UK Blogs
Our blogs are written by Amnesty International staff, volunteers and other interested individuals, to encourage debate around human rights issues. They do not necessarily represent the views of Amnesty International.
View latest posts