Good things come in threes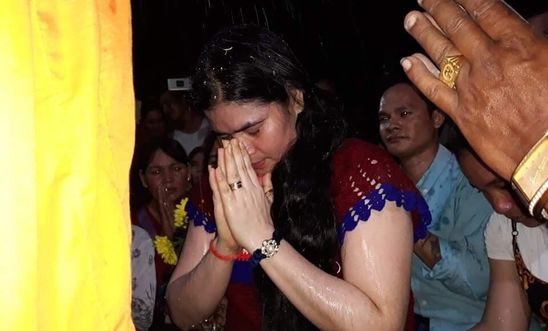 Tep Vanny is released from prison © Song Sreyleap
These last weeks of summer have been exceptional for us, seeing the release of three human rights defenders.
Thank you for your continued support – these successes would not have happened without you using your voice to support them.
Very sadly, Nazanin Zaghari-Ratcliffe's three-day leave from prison was not extended, however, we will continue to fight until she is permanently released. Please sign our action calling for Nazanin's immediate release.
Ahed Tamini
Seventeen-year-old Palestinian activist, Ahed Tamimi, was released from prison on 29 July, after serving just over seven months of her eight-month prison sentence.
Ahed was wrongfully charged with assault and obstructing Israeli soldiers after a video showing her shoving, slapping and kicking two Israeli soldiers in her home village of Nabi Saleh in December 2017 went viral on Facebook. The Israeli soldiers were standing on the edge of her family's walled front garden, armed with assault rifles and wearing protective gear and would have been easily able to swat away Ahed's slaps and kicks.
The reality is Ahed's imprisonment was a blatant attempt by the Israeli authorities to intimidate those who dare to challenge the ongoing brutal repression by occupying forces.
Incidents of Israeli settler violence in the West Bank normally go unpunished, while Palestinians are routinely targeted and arrested. There are currently around 350 Palestinian children in Israeli prisons and detention centres.
Taner Kilic
Taner Kilic, one of the founding members of Amnesty Turkey and its Chairman, was released on bail on 16 August 2018, after 432 days in jail.
Taner was arrested on 6 June 2017 and was sent to jail three days later charged with 'membership of a terrorist organisation' – a ridiculous claim made over and over again by the Turkish government to justify its attempt to silence human rights defenders.
He was sentenced along with ten other activists known as 'The Istanbul 10', including Amnesty Turkey's Director İdil Eser. They were all locked up a month later.
Eight of them were held for almost four months before being released on bail at their first hearing in October. 
The charges against Taner and the Istanbul 10 still stand, but we will continue our work to see all charges against them dropped.
Tep Vanny
On 20 August, following a royal pardon, Cambodian human rights defender Tep Vanny was released from prison having endured two years behind bars.
Tep is known for her campaigning against the forced eviction of her community from Boeung Kak Lake, Phnom Penh. A construction project on the site has seen thousands of families lose their homes.
She was arrested in August 2016 during a peaceful protest calling for the release of human rights defenders and was sentenced to six days in prison.
Instead of releasing her based on time served, the authorities reactivated dormant charges dating back to 2013. She was sentenced to another two years and six months in prison in one of Cambodia's most notorious prisons and given a heavy fine.
We are urging the Cambodian authorities to allow Tep to resume her activism without fear of further reprisals, and that they quash all convictions against her and halt any investigations into any other pending charges.
About Amnesty UK Blogs
Our blogs are written by Amnesty International staff, volunteers and other interested individuals, to encourage debate around human rights issues. They do not necessarily represent the views of Amnesty International.
View latest posts