Help get Nazanin Zaghari-Ratcliffe home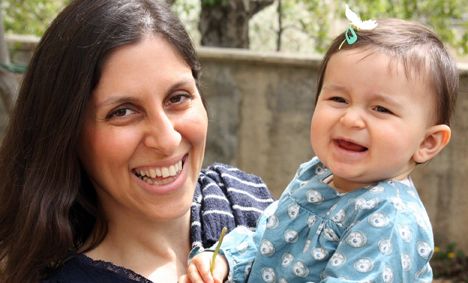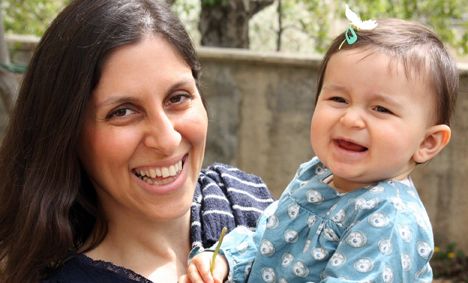 Nazanin Zaghari-Ratcliffe is a British charity worker and mum who has been unfairly jailed for over four years.
Mrs Zaghari-Ratcliffe had been in Iran's notorious Evin prison since 2016 but was released on furlough on March 17 as the Covid-19 pandemic swept through the country.

Her family were hopeful that she might be permanently released as part of an amnesty for 3,000 prisoners at the end of Ramadan which was announced by the country's supreme leader.

Help pressure the Iranian government to #FreeNazanin. Sign our petition now.
Help get Nazanin Zaghari-Ratcliffe home
Nazanin's story
Nazanin is a British-Iranian mother who has spent nearly four years now in an Iranian prison after being wrongly convicted of spying in 2016. The Iranian authorities have no evidence to support this claim.
Her five-year-old daughter Gabriella is now back home in the UK with her dad – but this news is bittersweet. In Iran, Gabriella was allowed to regularly visit her mum. Now they'll have to rely on phone calls to stay in touch. 
Amid the Covid-19 pandemic Nazanin was released on furlough and is currently living at her parents' house in Tehran, confided to the house by a tracking bracelet strapped to her ankle.
Iran must now allow her to finally go home and be reunited with her family.
Call on Iran to free Nazanin.
Who is Nazanin Zaghari-Ratcliffe?
Nazanin Zaghari-Ratcliffe is a 40-year-old British-Iranian woman, who ordinarily lives with her husband and young daughter in London.
She works for the Thomson Reuters Foundation, a UK-based media charity. This has been used against her as evidence that she is 'membership of an illegal group': the charge Nazanin was found guilty at an unfair trial and sentenced to 5 years in prison.
Arrested at the airport
Nazanin was arrested on 3 April 2016 at a Tehran airport, about to board a plane home to the UK with her then one-year-old daughter, Gabriella. They had been on holiday in Iran visiting Nazanin's parents – a trip Nazanin had made many times before, without incident.
At the airport, they were stopped by Iran's Revolutionary Guard. Nazanin was taken into custody, without being told why, and Gabriella was given to her grandparents. Gabriella's UK passport was confiscated (she does not have an Iranian passport), though it has since been returned.
Imprisonment and unfair trial
When Nazanin was first detained, she wasn't told given any explanation.
She was put in solitary confinement and held there for months, unable to speak to her family or a lawyer. Her family were not told the reasons for her imprisonment either.
Nazanin did not have a fair trial. She was only allowed access to a lawyer three days before her trial.
In September 2016, Nazanin was sentenced to five years in Tehran's notorious Evin prison for 'membership of an illegal group'.
We were told that she could face additional charges, which would extend how long she would be in prison for.
Health crisis
Nazanin's physical and mental health is suffering.
She suffers from severe arm, neck and back pain as a result of her prison conditions, and her hair is falling out. Nazanin's husband has most recently said that she is worried about lumps on her breast.
Her family say that Nazanin has been extremely distressed and depressed during her imprisonment and separation from Gabriella.
In November 2016, Nazanin wrote a suicidal letter to her family.
Almost four years have passed since she's been away from her daughter and her husband and her mental health has continued to decline.
Nazanin was sent to the psychiatric ward in July where she was kept in chains and isolation for over a week. She has subsequently been denied her medication.
The Iranian authorities have a track record of not allowing prisoners the healthcare they need – especially for people imprisoned on political charges – and this is sadly the case for Nazanin too.
Help us reunite Nazanin with her family and call for her immediate release now.
The charges
The case against Nazanin by the Iranian state has seen her accused of vague charges with no supporting evidence.  At the start of this year, when her case was heard before an appeal court, the media coverage of her case was cited as evidence before the court that Nazanin is an 'important person'.
Nazanin has officially been found guilty of 'membership of an illegal group', apparently related to her work for the Thomson Reuters Foundation and as an administrative assistant at BBC Media Action. Nazanin has never 'trained journalists' (as Foreign Secretary Boris Johnson said in November, and later corrected), but she has worked for organisations that provide such training. This alone seems to be the 'evidence' for her imprisonment.
Even if Nazanin had trained journalists, this would not be reason to imprison her. Yet while she was in Iran, she was simply on holiday.
Since she has committed no crime, Nazanin is a prisoner of conscience – someone who's imprisoned just for using their human rights like free speech and freedom of association.
UK government involvement
"the Foreign Office is working hard...to secure the release of Nazanin Zaghari-Ratcliffe...and we will leave absolutely no stone unturned in our efforts to do that"
Boris Johnson
The UK government agrees with us that there is no reason for Iran to imprison Nazanin.
UK Foreign Secretary Boris Johnson went to Iran on 9 and 10 December to hold talks with Iranian authorities. He says that he pressed for the release of UK-Iranian duel nationals imprisoned in Iran, including Nazanin.
"my first priority was the plight of the dual nationals behind bars. I urged their release on humanitarian grounds, where there is cause to do so... the Government will leave no stone unturned in our efforts to secure their release."
Boris Johnson addresses the House of Commons on 11 December
We welcome efforts by the British government to secure Nazanin's freedom. They must not stop until she is able to return to the UK and be reunited with Richard and Gabriella.
Dual nationals imprisoned
Nazanin is one of several UK-Iranian dual nationals imprisoned in concerning circumstances, apparently for political reasons.