Protests for racial justice face ongoing challenge from Policing Bill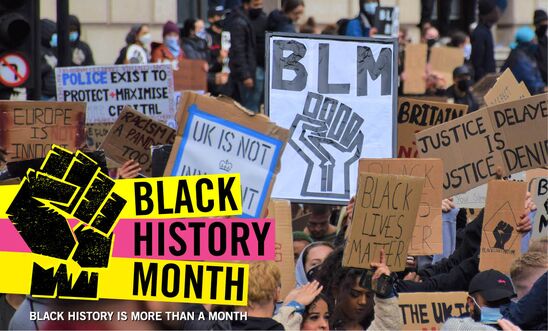 Blog by Ilyas Nagdee - Racial Justice Lead
Following the Black Lives Matter protests from last summer, this year has been significantly marked by the continued focus on policing in Britain. Spanning the country, thousands demanded action on police violence and brutality with posters proclaiming "The UK is not innocent" stating the names of just some of the 1800+ people killed after police interactions across the UK.
The names resonate - such as Joy Gardner, who had 13 feet of tape wrapped around her head in an immigration raid in 1991 ending in her death. Like that of Sean Rigg, killed in Brixton Police Station after a mental health episode. People like Darren Cumberbatch, killed by police in an interaction which saw him tasered three times, then beaten, punched and sprayed with CS gas. Never will we forget Mark Duggan, Sarah Reed, Marc Cole, Adrian McDonald, and a list that goes on and on..
Much attention was paid to the Black Lives Matter protests in London last year and, increasingly, a light is also being shone on the police response. In the report "Britain is not Innocent", Dr. Adam Elliott-Cooper found the police are guilty of using excessive force, including the use of baton charges (detailed in an Amnesty report about police baton use worldwide). However, the police response in the UK is not just restricted to batons, with evidenced use of horse charges, pepper spray and misuse of COVID-19 regulations to stifle protests. From kettling to pepper spray, a pattern has emerged of the excessive use of police force, particularly against Black demonstrators and Black protest organisers. 
At times, the portrayal of protest movements, like Black Lives Matter, Extinction Rebellion and climate strikes, has seen the Government respond with a new potential law that gives police more powers. The Police, Crime, Sentencing and Courts Bill fundamentally threatens our right to protest and ability to organise. It will make scenes like those we saw at Clapham Common at the vigil of Sarah Everard, murdered by PC Wayne Couzens, the new normal. You can join the campaign against the Policing Bill here. 
This year marks 40 years since the 1981 uprisings which saw racialised and working class communities rise in revolt against over policing and police violence, with protests from Brixton to Toxteth to Moss Side. The legacies of those uprisings along with many others, including the 1985 Brixton and Broadwater Farm uprisings, the 2001 Northern riots and 2011 riots seen across the country are etched into history as significant moments of social unrest in this country. Meanwhile, last year saw the largest anti-racist protests organised in British history. These uprisings signify when people used their right to protest to rise up against injustice – a right that must be continually protected. 
We must prevent the police from gaining these additional powers, call on the Government to stop the assault on our freedoms and protect our right to protest.
Get involved
Join the week of action here.
About Amnesty UK Blogs
Our blogs are written by Amnesty International staff, volunteers and other interested individuals, to encourage debate around human rights issues. They do not necessarily represent the views of Amnesty International.
View latest posts