The aftermath of the failed Turkey coup: Torture, beatings and rape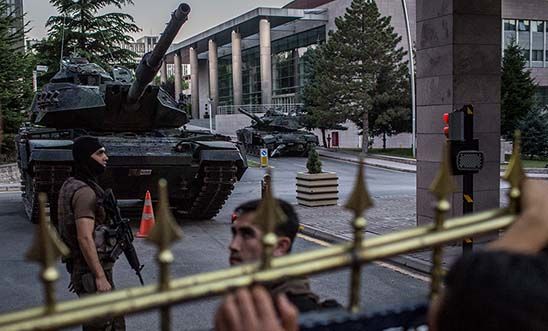 Army Headquarters in Ankara, Turkey © Getty Images
The Turkish government has embarked on a crackdown of exceptional proportions, targeting people it accuses of being linked to Fethullah Gülen - a Turkish cleric in exile in the US, who the government accuse of masterminding the failed coup on 15 July 2016.
More than 10,000 people have been detained since the attempted coup and we have evidence that many of those people are being subjected to beatings and torture, including rape, in official and unofficial detention centres in the country. 
Despite chilling images and videos of torture that have been widely broadcast across the country, the government has so far remained silent on the abuse.
Evidence of torture and rape
We spoke to lawyers, doctors and a person on duty in a detention facility about the conditions detainees were being held in.
There were multiple reports of detainees being held in unofficial locations such as sports centres and even a stable. Some detainees, including at least three judges, were held in the corridors of courthouses.
Turkish police in Ankara and Istanbul are holding detainees in stress positions for up to 48 hours, denying them food, water and medical treatment, and verbally abusing and threatening them. 
We heard extremely alarming accounts of torture and other ill-treatment of detainees, particularly at the Ankara Police Headquarters sports hall, Ankara Başkent sports hall and the riding club stables there.
According to these accounts, police held detainees in stress positions, denied them food, water and medical treatment, verbally abused and threatened them and subjected them to beatings and torture, including rape and sexual assault.
Two lawyers in Ankara told us that detainees said they witnessed senior military officers in detention being raped with a truncheon or finger by police officers.
'Reports of abuse including beatings and rape in detention are extremely alarming, especially given the scale of detentions that we have seen in the past week. The grim details that we have documented are just a snapshot of the abuses that might be happening in places of detention.'

John Dalhuisen, Amnesty International's Europe director
Beatings
A person on duty at the Ankara Police Headquarters sports hall saw a detainee with severe wounds consistent with having been beaten, including a large swelling on his head. The detainee could not stand up or focus his eyes and he eventually lost consciousness.
While in some cases detainees were afforded limited medical assistance, police refused to allow this detainee essential medical treatment despite his severe injuries.
The interviewee heard one police doctor on duty say:
'Let him die. We will say he came to us dead.' 
State of emergency
Follwing President Erdogan announcing a three-month state of emergency, the Turkish government then decided to suspend the European Convention on Human Rights (ECHR). The President has also refused to rule out the use of the death penalty.
On 23 July, the Turkish government issued its first decree under new powers authorised by its declaration of a state of emergency. The decree dramatically increases the amount of time detainees can be held without being charged from four to 30 days. This change risks exposing detainees to further torture and other ill-treatment.
The decree also provides for officials to observe or even record meetings between pre-trial detainees and lawyers, and detainees are restricted in who they can choose to represent them, further undermining the right to a fair trial.
Journalists and judges arrested
Since the attempted coup, at least 2,745 judges and prosecutors have been suspended according to Habertürk, a mainstream pro-government Turkish television news channel.
Arrest warrants issued today against 42 journalists as government fails to make distinction between criminal act and criticism #TurkeyPurge

— Andrew Gardner (@andrewegardner) July 25, 2016
The Turkish authorities have arbitrarily blocked access to more than 20 news websites; have revoked the licenses of 25 media houses in the country; 34 individual journalists have had their press cards cancelled; and at least one journalist has had an arrest warrant issued against her for her coverage of the attempted coup.
On Tuesday 19 July, the Ministry of Education reported that 15,200 ministry personnel had been suspended and that they are under investigation for links to Fethullah Gülen. 1,577 university deans were also asked to resign by the Council of Higher Education (YÖK).
It's been reported that the government has begun the process of closing 524 private schools and 102 other institutions operating under the Ministry of Education. The Ministry of Education has also suspended the right of academics to conduct research abroad until further notice and has called back academics who are currently working abroad.
It must stop now
Torture is never justified - not under any circumstances.
We're urging the Turkish authorities to condemn torture and other ill-treatment in places of detention, and take concrete steps to combat it and hold perpetrators accountable. 
We're also calling for independent monitors to be given immediate access to detainees in all facilities in the wake of the coup attempt, which include police headquarters, sports centres and courthouses.