THANKS FOR SHOWING YOUR SUPPORT, !name
Thank you for taking action. You've helped change governments' minds, free prisoners and stop executions.
Help us to keep campaigning for people all over the world who are denied their human rights by making a financial donation if you are able.
By donating from this page, your money will go to support the work of Amnesty International UK Section Charitable Trust
Make the right to a home a reality for all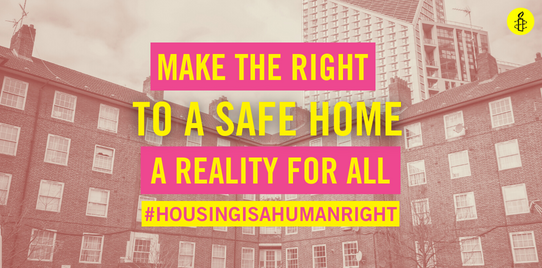 Every person has the right to a safe and stable home - but in England, thousands of people remain homeless because they are denied their right to housing due to deep rooted government failings. Take action and call on Michael Gove to make housing a reality for all.
Read more
Research we've conducted has exposed how deeply rooted homelessness is in England, because of government failures to protect the rights of its people. 
Decent housing is a basic human need, and every person has the right to a safe and stable home - no matter who they are or what life has thrown at them. 
Right now, thousands of people are in housing limbo through no fault of their own. Many people facing homelessness have tried and failed to access housing because the system simply isn't set up in their favour. Thousands fall through the cracks and are left with no support at all.
The UK government has a duty to protect everybody from homelessness. Michael Gove, the Secretary of State for Levelling Up, has the power to remove the unfair barriers the UK government have put in place and provide more resources. This is the only way to make the right to housing a reality for everyone. 
Call on Michael Gove now to make housing a reality for all and protected in UK law.