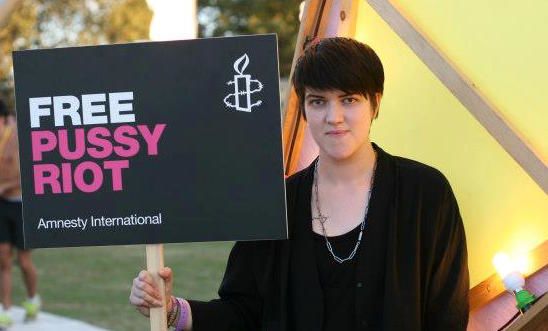 Romy from The XX at Bestival © Reuben Steains
Pocket Protest is our SMS Action Network. It's made up of more than 80,000 passionate people who use their mobile phone to defend free speech and stand up for human rights.
How it works 
As soon as we hear of someone in urgent need of your support – an outspoken blogger who has disappeared, a prisoner denied treatment for a life-threatening illness, women's rights campaigners harassed by the police – we'll contact you by SMS (text) message with details of the case.
When you get the message, just text us back to take action instantly.* For instance, we might ask you to add your name to a petition putting pressure on a regime to reveal the whereabouts of someone who has 'disappeared'. This will be no more than once a week and texts are free to receive. 
We'll also text you with updates on the campaigns you took action on, or invite you to get involved with important campaign moments. Occasionally, we may ask you to make a donation by text to support our work.
---
Join the network by SMS
Text PROTEST followed by your full name to 70505 to join the network*. Over 14s only please
Texts are charged at standard network rate, no more than 10p. Please ask bill-payers permission. By giving us your number you agree to future communication from us by SMS.
Aged 14-17?
Please ask the bill-payer's permission and include your date of birth, in the following format: DD/MM/YYYY (e.g. PROTEST Joe Bloggs 01/01/1900). If you're under 18, we won't ask you to donate.
Unsubscribe from calls
From time to time we would like to call you about getting more involved in our work. Text NOCALL to 70505 if you would prefer not to be called.
Unsubscribe from all texts
To unsubscribe, text STOP AMNESTY to 70505 at any time. See full terms and conditions
---
Join the network online