UK Regional Half Marathons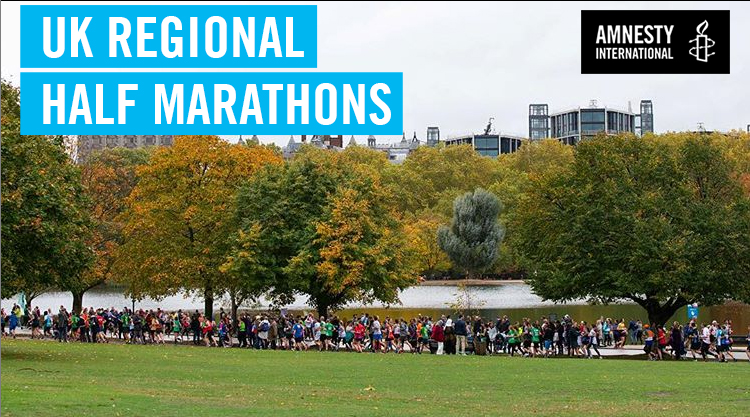 We are delighted to have access to places in a number of half marathons through a partnership with Sport for Charity!
This includes (but is not limited to) the below. You can check also search for events in your area via our Local Running Events webpage here. If an event you'd like to run in is not listed please give us a shout either via team@amnesty.org.uk or on 0207 033 1646 and we will endeavor to help!
The below events all have a registration fee of £25 and a minimum fundraising target of £300:
The Bath Half Marathon - 13th March 2022 - Sign up now!
Run round one of the UK's most historic, the city of Bath, a World Heritage site and take in the imposing architecture of Roman remains. The temple and baths are a must see!
Sheffield Half Marathon - 27th March 2022 - Sign up now!
Sheffield is a hub of creativity with a lively atmosphere and this run is evident of that! With a city centre start and finish, enthusiastic supporters will cheer participants out and back. The event boasts a stunningly scenic route with majestic views of the Peak District on the climb to Ringinglow.
Richmond Park Half Marathon - 17th April 2022 - Sign up now!
Take on 13.1miles through one of London's most beautiful parks. Take in the grasslands and watch the majestic deer herds... you may even feel like one as you bound around this fantastic course!
Hackney Half Marathon - 22nd May 2022 - Sign up now!
The 13.1 mile route will take you through Hackney's vibrant streets and scenic green spaces, showcasing the borough's diversity and creative spirit, finishing with panoramic views of the Olympic Park – all while you help us to fund vital human rights work with every step.
Edinburgh Half Marathon - 29th May 2022 - Sign up now!
This fast and flat route runs through beautiful Edinburgh so take in the historic sites whilst aiming for that PB or enjoying your first half marathon challenge!
Wales Half Marathon  - 3rd July 2022 - Sign up now!
Kicking off with a massive procession through the historic streets of Pembroke to the start line to the thumping rhythm of a samba band the atmosphere of this event cannot be understated. The course then joins with the Wales Marathon course to end with the famous red carpet finish line in Tenby where you can expect gigantic crowds, a lot of cheering and an unrivalled party atmosphere as the weekend comes to a close.
Scottish Half Marathon - 18th September 2022 - Sign up now!
The route is seriously flat and rapid – so great if you are aiming for a personal best or taking part in your first half marathon! Starting conveniently at 11am just outside Edinburgh, you will run along the magnificent East Lothian Golf Coast before finishing in the final furlong at Scotland's oldest racecourse - Musselburgh Racecourse!
Bournemouth Half Marathon - 9th October 2022 - Sign up now!
The Bournemouth Half Marathon course takes in both Boscombe and Bournemouth piers along this coastal route. This is running as it should be!
Signed up to run? Get fundraising!
How we'll support you
As a member of our team you'll receive:
A personalised running vest or T-shirt 
A fundraising pack filled with advice and ideas
One to one fundraising and training support
Fundraising and event materials like collecting tins, posters, badges etc
Regular updates on the event and on our human rights successes
An experienced and dedicated Community and Events Fundraising team with loads of advice and support to offer
Get in touch
If you have any questions or queries, contact our Community and Events Fundraising Team who will be able to provide you with further information. We will be more than happy to assist.
Please also note if you'd rather do your own Virtual Event at a time, pace and place that suits you, check out our Virtual Fundraising Challenge page.
Email: team@amnesty.org.uk
Phone: 020 7033 1646