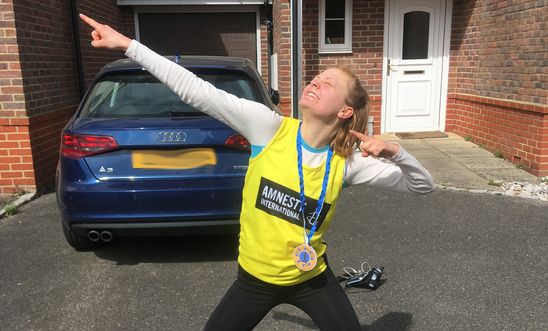 Maddy starts her virtual run
A virtual event (like a run, walk, cycle, swim) lets you to take part wherever you are, whenever you like and at a pace that suits you whilst still supporting Amnesty International UK through your activities.
Use a treadmill to finish that run or cycling machine to complete your virtual Tour de France – or simply clock up the miles on your daily exercise – it really is as simple as that.
Your virtual event: your chance to keep active, or start a new hobby
With social distancing still in place and all mass participation events on hold until at least Autumn, our Virtual Challenges offer you the opportunity to take on challenges (solo or in small bubbles) and support our human rights work at a really difficult time! You can do anything - run, cycle, trek, row, swim and much more! Join Team Amnesty and sign up to a virtual challenge with Team Amnesty.
As easy as Ready, Set, Go!
Ready: select your activity and distance and complete our quick Virtual Event Registration form
Set: Train and fundraise using JustGiving or Facebook just as you would for an organised event.
Go: Record your activity using an easy-to-use activity app, like Strava and upload the proof to your event page!
The techy bit
It may seem daunting at first but recording your activity couldn't be easier.
There are lots of options to chose from but a simple-to-use and highly recommended app for Virtual Events is Strava which can map runs, cycles and swims.
The easiest way to get used to it is to download it and give it a go – it's very intuitive and simple to use.
If you'd like to learn a little more, you can check out these 8 essential tips for Strava beginners from the Coach or for more detail, the Wareable essential Strava guide.
Fundraising
The Community Fundraising team is on hand to help with all your fundraising endeavours. Here are a few options to get you started, but if you have any questions at all just email team@amnesty.org.uk or call 020 7033 1646.
Set up a JustGiving or Virgin Money Giving fundraising page – these are the safest, easiest and fastest way to fundraise with every donation coming directly to us. Share them far and wide via email, social media, or directly by text or Whatsapp.
Facebook fundraising: you can now setup a fundraising page through your Facebook account with just a few clicks. Go to the Amnesty International UK Facebook page, select the 'Fundraiser' tab and follow the instructions to setup your page. You can add pictures and a story to your page and easily share with your Facebook friends.
Instagram Stickers: add a donation button to your Instagram story using stickers. Select the 'donation' sticker and search for Amnesty UK in the list of charities. You can personalise the wording on your sticker to tell your story.
We're with you every step of the way
If you decide to join of our elite squad of virtual human rights defenders you'll receive:
A beautiful yellow Amnesty running vest to wear with pride.
A fundraising pack filled with advice and ideas.
Access to fundraising materials such as posters, badges, collecting tins.
An experienced and dedicated Community and Events Fundraising team with loads of advice and support to offer.
Regular updates on our human rights successes and how your support makes a difference.
So, what are you waiting for? Sign up to your very own Virtual Event today and help protect human rights in the UK and around the world.
As always, we are here to help, any questions just email team@amnesty.org.uk or call 020 7033 1646.