Torture in Mexico: Claudia's story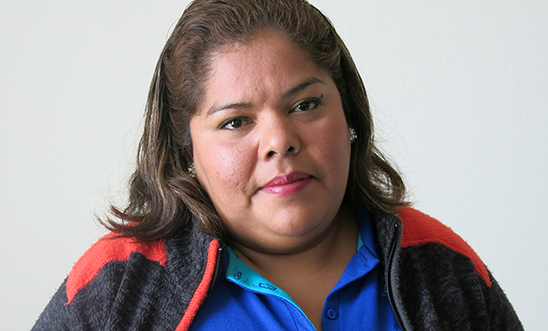 Claudia Medina Tamariz © Amnesty International
Claudia Medina Tamariz woke up at 3am on 7 August 2012 to find that marines had broken into her home in Veracruz City, Mexico.
They tied her hands, blindfolded her and took her to the local naval base where, she says, she was given electric shocks, beaten and kicked.
She was wrapped in plastic to disguise the marks from the beating.
The day after her arrest, she was blindfolded again and taken with a group of other detainees to the Federal Attorney General's Office.
When the blindfold was removed, she realised her husband and brother-in-law had also been arrested. A prosecutor interrogated Claudia and a marine pressured her into signing a statement that she wasn't allowed to read.
The next week she was taken to court, where she retracted her statement and described the abuse inflicted on her in detention. All the charges against her, except one, were dropped and she was released on bail.
A judge ordered the Federal Attorney General's Office to investigate her allegations.
But to date, no one has ever been held to account for Claudia's torture.
Good news: February 2015
Claudia has now been cleared of all criminal charges against her. The last remaining charge – carrying a weapon – was finally dropped In February 2015. This great news paves the way for Claudia to resume her normal life.
Together we've been calling on the Mexican authorities to drop the charges against Claudia, investigate her allegations of torture and bring those responsible to justice.
Almost 20,000 of you in the UK – and 300,000 worldwide – have taken action for Claudia so far.
A message from Claudia:
'I want to thank members of Amnesty International all over the world…. Many thanks in particular to the more than 300,000 people that sent letters about my case that were delivered to the Attorney General in September.

'I went through some very hard things in those two-and-a-half years. They were very tense times, we were knocking on many doors. To the judge I was [considered] the most guilty person in the world, now it is clear that I had nothing to do with the things I was accused of.

'Here in Mexico we realise how they are normalising torture. For example, from what I saw in that Marine facility many people are being tortured. I am not going to allow even one other woman to be tortured in Mexico.'

Claudia Medina, February 2015
A piñata  for President Peña Nieto
A few days after the charges were dropped against Claudia, Mexican president Enrique Peña Nieto visited the UK. We staged a stunt outside the Mexican embassy in London to draw attention to the country's record on torture, delivering thousands of your petition signatures inside a giant Stop Torture piñata.
We've also urged UK ministers who are set to meet the Mexican leader to ensure that human rights are addressed during the visit.
What next?
While the dropped charges are fantastic news, there is still more to be done. We're calling on the Federal Attorney General's Office to carry out a full, prompt and impartial investigation into Claudia's torture allegations.
We're still asking the Mexican authorities to investigate where others, like Claudia, claim to have been tortured and substantially improve investigations into torture in collaboration with independent experts and fully comply with the UN-backed Istanbul Protocol.