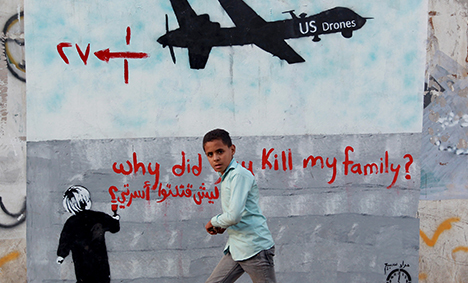 Thanks so much to all those who took action demanding the UK come clean about its involvement in lethal US drone strikes around the world.
Over 25,000 of you came together to urge the UK government to launch a full inquiry into its role in the US's expanding drones programme. 
What happened?
Our research shows how the UK authorities have been assisting the US in its secretive drones programme for years. They have provided intelligence (the reliability of which has raised serious concerns)  used to coordinate lethal drone attacks. 
In the UK, they have been doing this from four RAF bases; in Yorkshire, Cambridgeshire, Lincolnshire and Northamptonshire. 
The activities carried out in these bases include sifting through millions of emails and phone calls, and analysing geolocation data gathered from mobile phone signals.
Killed from thousands of miles away
Individual targets are identified and being killed at the press of a button from a drone operator sitting behind a screen thousands of miles away.
However, leaked Pentagon documents show that during a five-month period in 2013, 90% of those killed by US drone strikes in Operation Haymaker in north-east Afghanistan were unintended targets.
In fact, according to the Bureau of Investigative Journalism, US drone strikes have killed 1,551 civilians in Afghanistan, Pakistan, Somalia and Yemen since 2004. Some of these deaths appear to have been unlawful, and may even amount to extrajudicial executions or war crimes
President Trump rolling back protections
Despite these shocking numbers, drone attacks have already increased dramatically under Donald Trump's presidency. An estimated 36 drone strikes or special operations raids were approved by Trump in his first 45 days in office. 
To make matters worse, it has been reported that President Trump has also rolled back protections on the drone programme – so it's possible these numbers will continue to grow at an alarming rate.
'We kill people based on metadata.' 
General Michael Hayden, former Director of the CIA and the NSA. 
Other nations are also playing a crucial role in this deadly situation. Germany and the Netherlands are known to provide the US with metadata (information about communications such as time and location of phone calls) that is used for attacks, and Italy allows the USA to launch armed drones from a US base in Sicily. 
A full public inquiry
We don't know how often British intelligence being weaponised by the USA's secretive drones programme. This murky state of affairs cannot go on – we must have a full public inquiry into the UK's shadowy role in drone attacks by the USA. 
There must be accountability for civilian deaths and an end to the secrecy surrounding how and when drones are used to kill people.