Syria: Turn the lights back on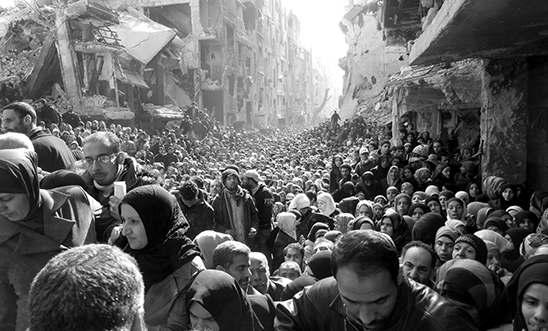 Yarmouk refugee camp, Syria © unrwa.org
Four years of brutal conflict have plunged Syria's people into the dark. Satellite images show that 83 percent of the lights in Syria have gone out since March 2011.
Millions have been forced to flee their homes. Many are struggling to access the food, water and shelter they need to survive.
More than 200,000 lives have been lost since the conflict in Syria began four years ago. A staggering 11 million people have been forced to flee their homes and three million children are no longer in school.
Research has revealed that the population of Syria is living in darkness – satellite images show that in the worst-affected areas like Aleppo, 97 percent of the lights have gone out.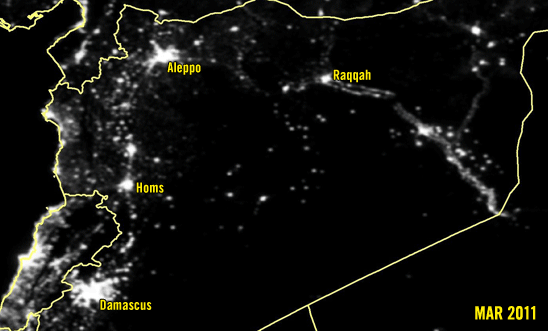 'Taken from 500 miles above the earth, these satellite images help us understand the suffering and fear experienced by ordinary Syrians as their country is destroyed around them.'

Dr Li Xi, lead researcher at Wuhan University in China
Scientists based at Wuhan University in China analysed satellite images spanning the four years of crisis in Syria to map changes in the levels of night-time light. Their study found that in all of the provinces, the levels of night-time light had declined sharply following the breakout of the conflict.
In fact, the number of lights visible over Syria at night has fallen by 83 percent since March 2011.
Light in darkness
More than 20,000 of you took action this year to demand that world leaders drive away the darkness in Syria. The humanitarian response in Syria must be boosted, attacks on civilians must stop, and finding a political solution should be prioritised.
And in the face of fear and suffering ordinary Syrians like Dr Hassan are showing extraordinary courage.
'Marwan was on the operating table when the lights blinked and fizzed out. I grabbed the headlamp but it flickered, indicating low batteries. The nurse pulled her mobile phone from her pocket and turned it on – generating the only light in the pitch-black basement. Others in the room followed suit, shining their devices at the wound and producing just enough light to allow me to finish repairing his broken little body'

Dr Hassan, operating in Aleppo, Syria
In the face of fear and suffering ordinary Syrians like Dr Hassan are showing extraordinary courage.
Teachers are risking their lives to keep schools running, volunteer rescue workers are pulling people from bombed out buildings, and doctors, like Dr Hassan, are operating with the light of mobile phones to save the wounded.
Driven by the human impulse to help their fellow citizens, protect their families, or simply to survive another day, these ordinary heroes are the chinks of light in the darkness.
Time to act
'We've let the people of Syria down. While we are divided and pointing fingers and accusing each other, they are paying with their lives.'

Kofi Annan, former Secretary-General of the United Nations
In February 2014, the UN called for an end to attacks on civilians, and more humanitarian aid for the millions in need. Since then, over 15,000 civilians have been killed, many of them children.
Access to relief has not improved and humanitarian funding has fallen compared to the needs. This must change.
Our governments must do more to end the suffering of the Syrian people.
'We have run out of words to fully explain the brutality violence and callous disregard for human life which is a hallmark of this crisis.'

Valerie Amos, UN Under-Secretary-General for Humanitarian Affairs