The circle of hell: Barrel bombs in Aleppo, Syria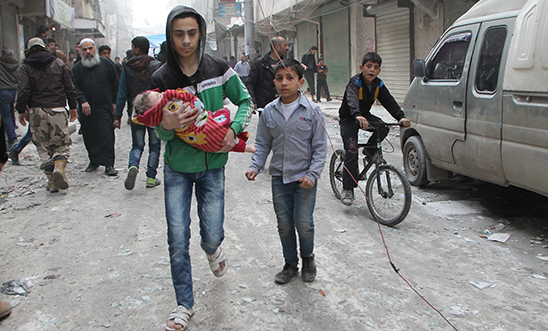 Civilians fear the Syrian regime's planes circling above them in Aleppo © Amnesty International (Photo: Mujahid Abu al-Joud)
'Barrel bombs are the most horrible and hurtful weapon… [We deal with] multi-trauma, so many amputations, intestines out of the body, it's too horrible'
A surgeon in Aleppo, Syria
Barrel bombs – oil drums, fuel tanks or gas cylinders filled with explosives and metal fragments, plunged from helicopters – have killed more than 11,000 civilians in Syria since 2012.
Last month alone, local activists recorded at least 83 barrel bomb attacks in Aleppo, killing more than 100 people.
'I saw children without heads, body parts everywhere. It was how I imagine hell to be.'
A factory worker said describing the aftermath of an attack on al-Fardous neighbourhood in 2014.
Yet the Syrian government refuses to acknowledge one single civilian casualty caused by barrel bomb attacks.
In fact, President Bashar al-Assad denies ever having used barrel bombs.
He called the allegation 'a childish story' and stated: 'there are no barrel bombs'.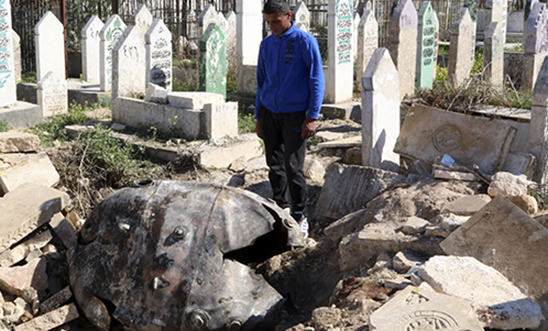 An unexploded barrel bomb dropped by forces loyal to Syria's President Assad at a cemetery in Aleppo. © Reuters 
In reality, barrel bomb and other air attacks have killed and injured thousands of civilians across Syria.
Our evidence shows massive destruction and casualties caused by these attacks, as well as clearly identifiable remains of barrel bombs, captured in thousands of videos and photos.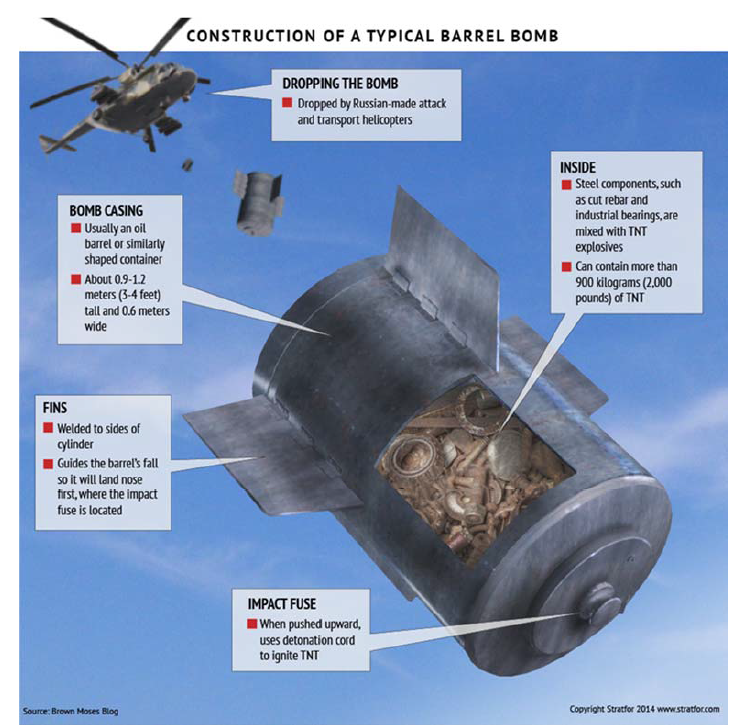 Living in constant fear
Homes, schools, hospitals, mosques and shops have been destroyed by the aerial bombardment. Many have sought safety in underground bunkers.
'There is no sun, no fresh air, we can't go upstairs and there are always airplanes and helicopters in the sky,' said one doctor whose field hospital is among those forced underground.
'We are always nervous, always worried, always looking to the sky,' a teacher from Aleppo told us. Another resident described Aleppo as 'the circle of hell': 'The streets are filled with blood.
The people who have been killed are not the people who were fighting,' he said.
Torture
We've also documented widespread torture, arbitrary detention and abduction by both government forces and armed opposition groups, often for simply for exercising their rights to freedom of expression and assembly.
A peaceful activist arrested by government forces in 2012 for videotaping a protest, described being forced into a car tyre, beaten with cables that cut into his skin and listening to the screams of others being tortured at night.
On top of all these grave human rights violations, residents of Aleppo are forced to live in appalling conditions, facing severe shortages in basic supplies such as water, medicine and electricity.
What we're calling for
All parties to the Syrian conflict must end deliberate attacks on civilians and civilian objects such as hospitals and schools. They must also:
end of the indiscriminate use of explosive weapons such as barrel bombs and mortars in populated areas
stop arbitrary arrests, enforced disappearances, abduction and torture and other ill treatment
allow complete humanitarian access to the UN and aid agencies in Aleppo and in Syria as a whole.