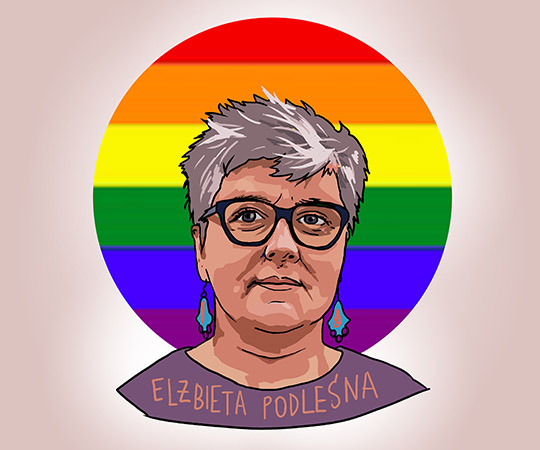 Elżbieta is under investigation for 'offending religious beliefs'. She could face two years in prison after being accused of owning a poster of the Virgin Mary with a rainbow halo. We are continuing to put pressure on the Polish authorities to stop this ludicrous investigation immediately.
This Pride season, please join us and stand up for Elżbieta who is being targeted for her LGBTI+ rights activism. Take action by creating your own Rainbow Halo and sharing on social media. 
How to make your own Rainbow Halo:
Step 1
Download the Rainbow Halo template here and make your own rainbow halo.
Step 2
Take a selfie wearing the halo.
Step 3
Share your photo on social media with the following or similar message:
I'm wearing a #rainbowhalo for activist #ElzbietaPodleśna. Polish authorities are going too far to silence peaceful activism. We will not stay silent. We stand with Elzbieta. #TeczaNieObraza #dropabsurdcharges CC @AmnestyUK @amnestyPL
Get started
 
If you don't have a printer at home, you can make your own version:
Draw your own halo, using our template
Get creative and create your own halo with things you have in the house: clothes, books, flowers
Knit a rainbow halo
Unfortunately Elzbieta's is not an isolated case – LGBTI+ activists are facing more and more harassment in Poland and around the world.
Together we can take a stand against this discrimination. Join us!