Juvenile offender Shafqat Hussain executed in Pakistan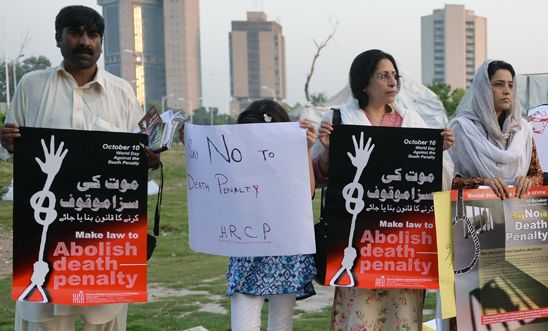 Protest against the death penalty in Islamabad, Pakistan, 2014 © AAMIR QURESHI/AFP/Getty Images
Shafqat Hussain was just 14 years old when he was sentenced to death. Police had held him in custody for over a week after arresting him, where he says he was tortured until he confessed to charges of kidnapping and involuntary manslaughter - charges he later denied.
Hanged in Karachi
On 4 August 2015, Pakistan hanged Shafqat, then aged 24.
The authorities that hanged him ignored pleas that Shafqat was only a juvenile when he was sentenced to death; that his 'confession' was tortured out of him; and that he was convicted under Pakistan's Anti-Terrorism Act, despite not having any links to a terrorist organisation. By using the death penalty to punsih Shafqat, despite these problems, they denied him his right to life.
Shafqat was hanged in Karachi Central Jail just before dawn. He had seen his family for the last time the night before.
'I have never seen the gallows [in Karachi Central Jail]. Prisoners generally cannot until they have to be taken to them. But when I do cross it from outside, it terrorizes me. I think to myself that may there never come a time that I have to go inside. The jail is very silent on those days [when someone is executed].'
Shafqat Hussain, talking to CNN in August
Execution set five times in five months
When Shafqat was executed on 4 August, it was the fifth time this year he had been told he would die; it was the seventh time since 2013 he had expected to be executed.
'The first time I was told, I was very worried and perplexed. I felt very frustrated. At one point, I am told I am to die; the next thing I know, there is a stay. And I see a ray of hope. But then again, I am told I am going to die. You become a victim of psychological pressure.'
Shafqat Hussain
The previous four execution notices served to Shafqat this year were all suspended at the last minute. Less than a month earlier, on 9 June, Shafqat was spared from hanging just hours before his execution was due to take place on the grounds that he had a live appeal pending which was due to be heard in the Supreme Court later that day.
At his most recent hearing in June, Shafqat's lawyers continued to argue that he should not be executed because he was under 18 when the alleged crime was committed and that any 'confession' was forced out of him through torture. The Supreme Court dismissed the appeal, saying that those concerns could not be raised at this stage of the proceedings.
However, questions about the legitimacy of Shafqat's execution was the reason that he had not been hanged - again, just hours before the execution was due to take place - the previous month. On 6 May the gallows were once again ready for Shafqat's execution but public outcry and a petition from his lawyers prompted an investigation from the courts and postponed his execution.
Reports of intimidation by Pakistan police force
In April, Pakistan's government ordered an inquiry to investigate the claims that Shafqat was under 18 at the time of the alleged crime and tortured into confession, but the investigation had its own problems.
There are reports that government officials intimidated witnesses and confiscated evidence during this inquiry. The Islamabad High Court has since said that the inquiry, conducted by the Federal Investigation Agency (FIA) was illegal as it was not the right body to investigate these claims - although the High Court did not open another investigation or look into the age and torture claims itself.
An illegal execution
By executing Shafqat, Pakistan has violated international law around use of the death penalty – specifically the laws that say you can't execute someone who was under 18 at the time of the alleged crime, and that you can't torture someone into confessing their guilt. On top of this, they have denied Shafqat his right to life, and his right to be free from torture.
Pakistan's 200th execution this year
Pakistan resumed executing prisoners in December 2014 after six years of no executions. Shafqat was the 200th prisoner to be executed this year alone.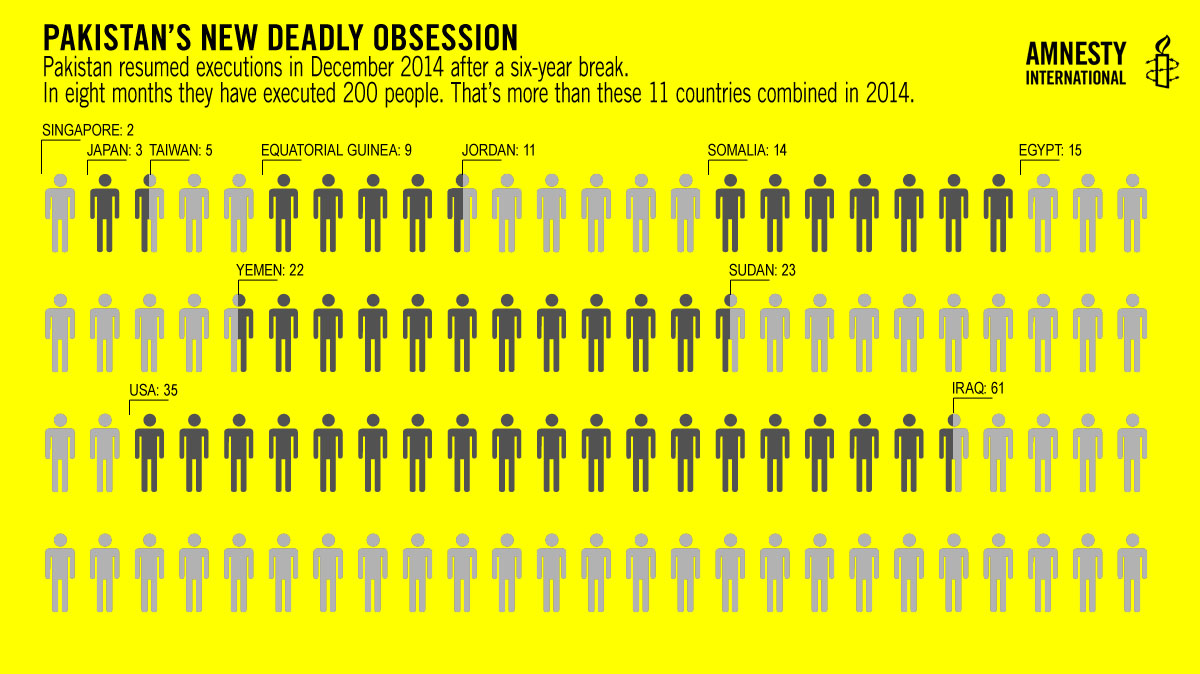 Around 8,200 prisoners remain on death row in Pakistan.
We're calling on the country's authorities to stop using the death penalty altogether.