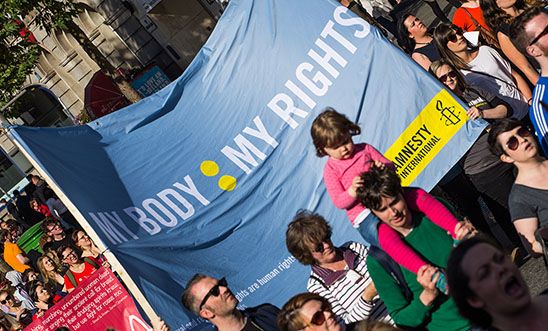 Women and girls in Northern Ireland are subject to dangerous, draconian and outdated abortion laws which put their health and potentially their lives at risk.
Northern Ireland has one of the strictest abortion bans in the whole of Europe and carries the harshest criminal penalties. It's illegal for women to end their pregnancies in almost every case, including  in cases of incest, rape, and when the baby would not survive outside of the womb.
Although since June 2017 women can now travel to other parts of the UK to access free abortions, this is not always an option. For some it's the physical and emotional cost of travel. For others they simply don't want anyone to know, forcing them to make a lonely trip to have the procedure away from the support of family and friends.
We also have to remember those women who are marginalised due to their immigration status or cultural background or who are in a domestic violence situation and can't travel.  These and many other factors mean women are often forced to seek other options.
Grainne Teggart has been leading our campaign to reform abortion law in Northern Ireland for five years now. She said:
"What we're doing by having these laws is endangering women's lives and health, because we're forcing women to look for other ways to terminate their pregnancies.

"Some women go online and buy abortion pills, which are safe for the first nine weeks of gestation, but because of our laws some women will take these abortion pills outside of nine weeks of gestation — they might be 14 weeks along and think 'if I take double the dose it might have the desired effect'. But really what that does is risk their health and their lives."
Accessing abortion pills
Although abortion pills are recommended as a safe way to end a pregnancy by the World Health Organisation, women are being criminalised for buying them, and the police in Northern Ireland are actively trying to prevent their use.
For example, Helen Crickard – a women's rights activist from Belfast – had her premises raided for abortion pills on International Women's Day. She says that these police raids may result in women taking less safe routes to end their pregnancies.
"A number of women have ordered the pills and haven't received them because they've been stopped by the police — it puts them in an even more precarious position, because they would like to have an abortion early, and if the pills are stopped and they can't access them, that's another two weeks, or another two weeks."

"I would be worried that women would take more desperate measures. Especially among younger girls. When you're in a really desperate situation and you can't access the information and you're afraid to even ask people about it because there's such a level of intimidation of women who choose to make that decision... It puts them in a very desperate situation."
The law goes so far that anyone involved in the supply or use of abortion pills can be prosecuted. Amnesty is currently involved in a court case challenging the decision of the Public Prosecution Service to prosecute a mother is for buying abortion pills for her then 15-year-old daughter, who had been abused by her partner. If this challenge fails the mother, who also has a young toddler, will be facing a criminal trial and potentially up to ten years in prison. She is not a criminal and the law should not treat her this way.
We recently helped end the threat of prosecution for doctors referring NI women to NHS hospitals and clinics in rest of the UK. Whilst this removes that significant barrier and is important to facilitate access to abortion services, because of the law in Northern Ireland, the threat of prosecution in abortion pill cases remains.  Grainne Teggart says this is also incredibly dangerous:
"If you are a woman who has taken abortion pills and arrives at a maternity unit or at A&E and you disclose that you have taken these pills, or it's obvious, technically there's a duty on the medical professional to report these women.

"Medical professionals are concerned with the health of women. They do not want to be dealing with healthcare as a form of criminal justice. At Amnesty we're very clear — abortion is a matter for women and their doctors, not police and judges."
The fight continues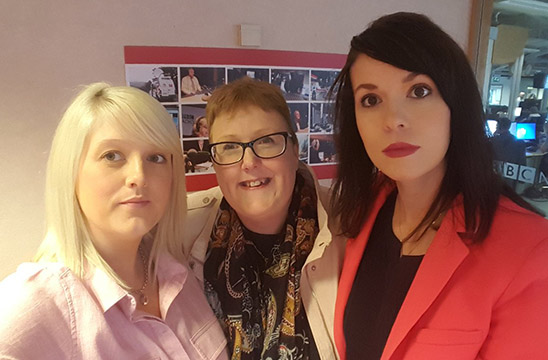 The UK's highest court will decide in October whether Northern Ireland's abortion law is compatible with the European Convention on Human Rights.
In the case we will argue that the current laws breach women's rights. We are supporting a young woman called Sarah Ewart, who was forced to take a nightmare trip to England to end her pregnancy, despite being given a fatal foetal diagnosis, meaning her baby would not survive birth.
If the court rules in our favour this could be a landmark victory for abortion reform in Northern Ireland and put a spotlight on the need for decriminalisation.
We're fighting for women's reproductive rights. Join us.
We'll be frequently giving updates on the case next month, so keep an eye on the homepage, or follow us on Facebook, Twitter and Instagram for the latest updates.