Russian YouTuber facing prison for playing Pokémon Go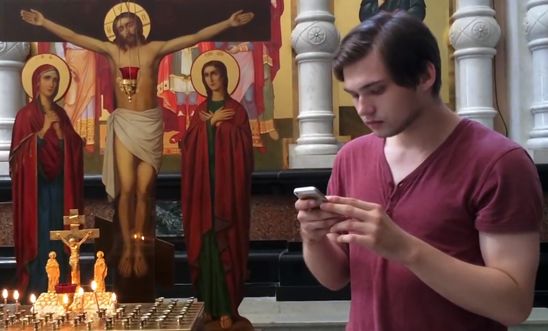 Ruslan Sokolovsky playing Pokémon Go © YouTube/Ruslan Sokolovsky
21-year-old blogger and law student Ruslan Sokolovsky is facing up to five years in prison for playing Pokémon Go on his phone in a church in Yekaterinburg, central Russia. He is currently being kept under house arrest in Yekaterinburg.
Ruslan filmed himself playing the game on his phone in a church in August. A few weeks later, he was arrested for the youtube post, which allegedly falls foul of laws brought in after Pussy Riot's famous church protest – laws that limit free speech in religious places.
After we highlighted Ruslan's case, 14,032 people contacted the Russian authorities calling on them to drop the charges against Ruslan. We'll keep campaigning for his release.
Arrested for posting to YouTube
Early on the morning of 2 September, Ruslan Sokolovsky was awoken by police who had got keys to his apartment from his landlord. They arrested him for a video he'd posted on 11 August, in which he played the game Pokémon Go on his mobile phone in one of the biggest churches in Yekaterinburg – an act which local authorities say was a crime, because it was offensive to people who worship in the church.
Police searched Ruslan's apartment and confiscated his recording equipment and a magazine he was working on. He was charged with:
'inciting hatred or enmity and insulting human dignity' (Article 282 of the Russian Criminal Code)
'public actions expressing clear disrespect to society with the aim to insult religious feelings of believers committed in places for religious worship' (Article 148.2).
If found guilty of the charges, he could face five years in prison for filming himself playing the game.
Ruslan is a prisoner of conscience, punished for peacefully expressing views – which he is perfectly entitled to do.
House arrest
After Ruslan was arrested, he was kept in police custody. On 8 September, Sverdlovsk Region Court ruled that he should instead be kept under house arrest. He's staying in his lawyer's flat at present as he doesn't have a permanent residence in Yekaterinburg.
Ruslan isn't allowed to leave the house, use his phone or the internet. He's banned from communicating with anyone except the people investigating him, and his lawyer.
Monitoring the internet
Ruslan's video was apparently discovered by the local branch of the Ministry of the Interior through their 'web monitoring' programme. They sent it on to the regional police Centre for Combating Extremism.
The video was broadcast on state-run TV networks with commentary saying that Ruslan was insulting the feelings of believers – and possibly experiencing mental health problems.
'Insulting believers'
Ruslan has been charged with violating a law that was brought in right after punk feminists Pussy Riot filmed themselves performing in a Moscow church in 2013, a performance that saw members of the band spend months in prison for 'hooliganism'.
The law, Article 148, brought in extra measures to crack down on free speech in places of worship, criminalising acts that 'insult the feelings of believers', which now carries a prison sentence of up to five years. Since the law was brought in three years ago, six people – all of them men – have been charged under Article 148, and all of them found guilty and imprisoned. One of the men found guilty of 'insulting the feelings of believers', Said Osmanov, was subjected to enforced psychiatric treatment as part of his sentence after he allegedly desecrated a statue of Buddha.
While Article 148 purports to protect 'believers' from offence, it is another mechanism for the Russian state to shut down opinions that it deems controversial or distasteful. We all have the right to freedom of opinion and expression under the UN Declaration of Human Rights – including the right to 'hold opinions without interference' and publish those opinions in the media or online.
Free speech crackdown
Ruslan Sokolovsky is the latest in a long line of people being punished by Russian authorities simply for expressing themselves online.
President Vladimir Putin's government has overseen a huge crackdown on civil liberties and free speech in the past four years, when Putin returned to Presidency. Since then, the government has brought in various laws that curtail free speech through a range of mediums – from stopping people posting opinions freely online to imprisoning those who attempt to arrange and attend protests. Numerous high-profile activists and critics of the government have been harassed, detained and imprisoned in the last four years.
In other attempts to curtail criticism of the government, Putin's administration has brought in harsh restrictions on the activities of human rights organisations and civil society groups, with legislation to monitor and heavily restrict such groups.