Rohingya crisis: Myanmar's military must be brought to justice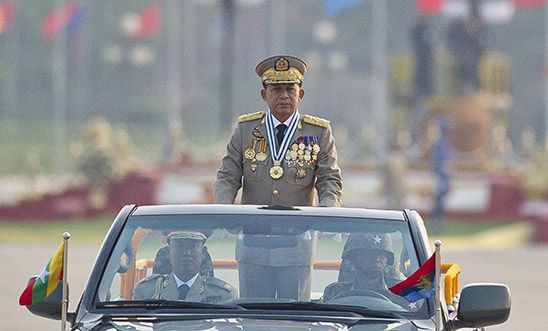 Chief Senior General Min Aung Hlaing, commander in chief of the Myanmar armed forces © YE AUNG THU/AFP/Getty Images
On 25 August 2017, Myanmar security forces swept through hundreds of Rohingya villages, killing, raping and hauling people to detention sites where they were tortured.
Soldiers burned Rohingya homes, shops, and mosques and forced more than 700,000 people to flee across the border to Bangladesh - the offensive amounted to ethnic cleansing and crimes against humanity. This was just the latest episode in a history of state-sponsored persecution against Muslims, particularly the Rohingya, that amounts to apartheid.
In 1 hour we saw 2 fishing boats arrive in #Bangladesh w 80+ #Rohingya incl a boy shot in the arm. All said attacked by #Myanmar sec forces. pic.twitter.com/G0KsA0DLKk

— Tirana Hassan (@TiranaHassan) September 6, 2017
One year on
A year later, Rohingya survivors who remained in Myanmar are at risk of starvation. The military have repeatedly denied access to their rice fields, stolen livestock and torched several local markets.
Hundreds of thousands of Rohingya people are still in limbo in refugee camps in Bangladesh. Until their tormentors in Myanmar's security forces are brought to justice, Rohingya refugees cannot safely return home.
And so far, the Myanmar military have gotten away with their crimes.
World leaders' failure to act has allowed the perpetrators to remain at large for a year after their murderous campaign against the Rohingya prompted an exodus of epic proportions.
Wanted for mass murder
Our latest report, "We will destroy everything", identifies 13 individuals suspected of playing a key role in these crimes – including Myanmar's Commander-in-Chief, Senior General Min Aung Hlaing – who played key roles in the atrocities against the Rohingya.
We have recommended concrete steps to hold them and others accountable, including for the UN Security Council to refer the situation to the International Criminal Court and the establishment of an international mechanism to collect and preserve evidence for use in future criminal proceedings.
A blistering report released by the UN has brought yet more damning evidence of the Myanmar security forces' atrocity crimes against the Rohingya and against ethnic minorities in northern Myanmar.
It emphasises why the international community has a responsibility to act to ensure justice. Failing to do so sends a dangerous message that Myanmar's military will not only get away with it but will be free to commit such atrocities again.
Today, world leaders meet for the @UN General Assembly ?. So, we've plastered@SGMinAungHlaing's face all over New York, to remind them that he remains at large - despite the mass murder of #Rohingya. Share this & make sure they notice. It's time to #ProsecuteTheGeneral #UNGA pic.twitter.com/4tlaCGnJ6T

— Amnesty UK (@AmnestyUK) September 25, 2018
What we're doing
When we see people suffering, we don't back away – we act. We have researchers on the ground gathering evidence of Myanmar's violent system of apartheid that Rohingya people have been subjected to for years.
Our political experts analyse how we can influence those in power and put a spotlight on what's really happening. And we've got over 7 million people like you that are ready to speak out for justice, freedom and equality.
We won't stop campaigning until those in the Myanmar military with blood on their hands face justice.