UAE: Verdict date set for two Lebanese men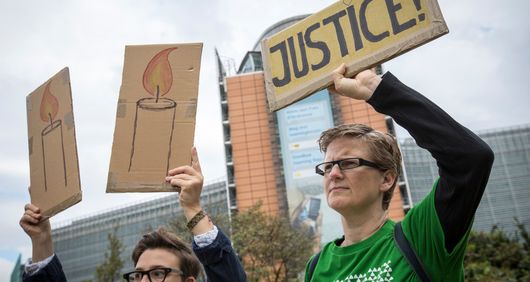 The Federal Supreme Court has set 20 January 2020 to issue its verdict on the cases of two Lebanese men, including Ahmed Nimr Sobeh, appealing convictions and sentences obtained in a trial that did not meet international fair trial standards. The court has yet to set a date for the appeal hearing of a third Lebanese man, Abdelrahman Talal Chouman.
Background
Between the end of December 2017 and 18 February 2018, State Security forces arrested eight Lebanese men – including Abdelrahman Talal Chouman, a safety and security trainer with Emirates Airlines, and Ahmed Nimr Sobeh, a sales consultant at Al Nabooda Automobiles – on charges including "forming a terrorist cell" and "planning terrorist attacks in the UAE" on orders of Hezbollah, a Shi'a political party and armed group based in Lebanon.
At least one of the detainees was forced to sign his so-called "confession" without being allowed to read the document. The men were denied access to lawyers during the pre-trial interrogation and investigation phase. When lawyers were appointed after the trial began, on February 2019, they were not allowed to meet with their clients outside of court. The court also did not give the lawyers all of the documents relating to their clients' cases. At least two lawyers withdrew from the case.
On 15 May 2019, the court issued its verdict in the case of the eight men, and three others who were tried in absentia – while not present. In their absence, Abdel Rahman Talal Chouman and the three men tried received life sentences. The court ordered all of their communications devices be confiscated, including their computers and phones. Ahmed Nimr Sobeh and another man were sentenced to ten years in prison. Ahmed Nimr Sobeh was also fined 3,000 Emirati Dirhams (around £623) for possessing a rifle without a licence. The court ordered that they be deported upon completion of their prison terms. The remaining five men were acquitted and later released. 
Taking Action:
We are recommending delivery by making a PDF of the letter, or scanning a printed copy, and posting it as an image Tweeted at the official's individual Twitter account. This is a bit of an experiment because we have major difficulty in getting valid postal addresses for Arab Gulf states. Twitter offers some advantages in that we can be sure the message is transmitted, even if we can't make the target read it, and in its public nature, which makes it possible that critical Tweets might be noticed if the target is concerned with his public image. The UAE government also prioritises social media engagement for its own brand image.
Vice-President and Prime Minister
HH Sheikh Mohammed Bin
Rashid al-Maktoum
Prime Minister's Office
PO Box 212000
Dubai, United Arab Emirates
Fax: +971 4 330 4044
Email via web: https://uaecabinet.ae/en/contact-the-prime-minister
Twitter: @HHShkMohd
Downloads