Palestinian NGO worker in administrative detention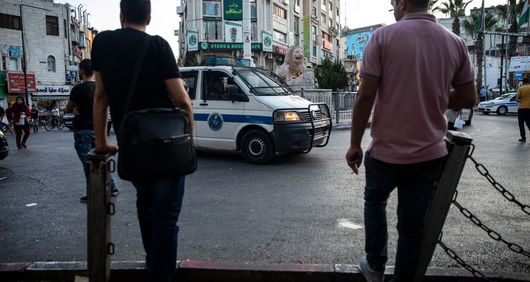 Palestinian Authority personnel in central Ramallah © Amnesty International
Ubai Aboudi, an NGO worker and education activist has been issued a four-month administrative detention order by the Israeli military commander of the West Bank. Ubai Aboudi has been detained since 13 November 2019, without charge or trial in Ofer prison, near the West Bank city of Ramallah.  
Ubai Aboudi is a 35-year-old father of three, and the Director of Bisan Center of Research and Development. His work focuses on sustainable development and education in Palestine. Ubai Aboudi is also a vocal advocate and partner for Scientists for Palestine, an organisation that promotes science and supports the integration of the occupied Palestinian territories into the international scientific community.
Ubai Aboudi was meant to take part in the Third International Meeting for Science in Palestine, set to be held in the USA at the Massachusetts Institute of Technology (MIT) in January 2020.   
Amnesty International has collected evidence over many years indicating that the Israeli authorities use administrative detention regularly as a form of political detention – enabling the authorities to arbitrarily detain political prisoners, including prisoners of conscience, and that the practice is used to punish them for their views and suspected political affiliations, when they have not committed any crime.
Administrative detention was initially introduced as an exceptional emergency measure to detain people who pose an extreme and imminent danger to security. Orders can be renewed indefinitely, and evidence is kept secret. Detainees are not able to effectively challenge their detention and do not know when they will be released.
According to the Palestinian human rights organisation, Addameer, as of October 2019, there were 460 administrative detainees, including two children and five Palestinian Legislative Council members, held without charge or trial by Israel. Amnesty International has documented an escalation of acts of intimidation by the Israeli government against Palestinian civil society organisations and human rights activists in the OPT.
PLEASE TAKE ACTION until 2 January 2020
Please write using your own words or the template letter provided in the attached documents, in Hebrew, English, Arabic, or your own language, to the listed address as soon as possible: 
Major-General Nadav Padan
GOC Central Command
Military Post 01149
Battalion 877
Fax: + 972 2 530 5741
Email: 1111@idf.gov.il
Downloads