Hazardous air puts health of millions at risk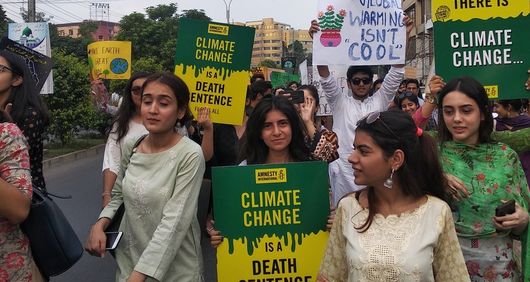 The air in Punjab, Pakistan's most populous province, is so toxic that people's health and lives are in grave danger. Schools have been forced to shut down, respiratory illnesses are on the rise and people are having trouble breathing. On 13 November, the Air Quality Index in Lahore, the capital of Punjab, reached 556 – far exceeding the threshold for 'hazardous' levels, which begins at 300. The Government of Pakistan is assessing the air quality using measures not in line with international standards; people are not adequately warned or equipped to protect themselves from the smog. The Government of Pakistan must act on its human rights obligations and take urgent action to protect people from the consequences of poor air quality.
Background:
The right to health is recognised in numerous international treaties that Pakistan is party to. The levels classified as "satisfactory" in Lahore would be considered "moderately polluted" in China and India, and "unhealthy" in Singapore, South Korea, and the United States.
Levels of air quality have been rated "near unhealthy" and "very unhealthy" for most of the year in Punjab. During the "smog season" – from October to January – air quality reaches "hazardous" levels, as recorded by multiple independent sources. The high level of smog is neither a new problem, nor one that came without warning. 
The court-appointed Smog Commission in Punjab made a number of recommendations in May 2018. These recommendations have only been partially implemented, if at all.
Prolonged or heavy exposure to hazardous air can result in severe health issues, including asthma, lung damage, bronchial infections and heart problems, and shortened life expectancy – putting people's rights to life and to health at risk, as well as their right to a healthy environment.
On 4 November, three teenage girls filed a suit against the Government of Punjab for the "violation of their fundamental right to a clean and healthy environment".
PLEASE TAKE ACTION until 3 January 2020
Please write using your own words or the template letter provided in the attached documents, in English or your own language, to the listed address as soon as possible: 
Minister (State) of Climate Change Zartaj Gul Wazir
4th floor, Local Government Complex
G-5/2, Islamabad
Phone: +92 51 9245710
Fax: +92 51 9245841
Email: zartajgullwazir@gmail.com
Downloads