Fy Mhasbort Hawliau (My Rights Passport in Welsh)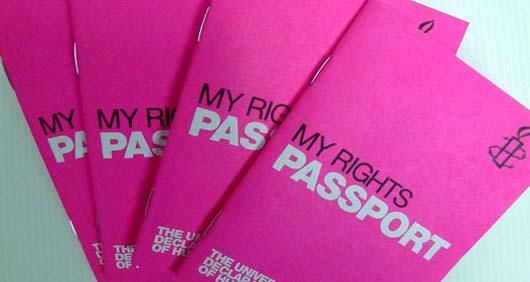 Llyfryn lliwgar maint poced sy'n cynnwys holl erthyglau'r Datganiad Cyffredinol o Hawliau Dynol ar gyfer myfyrwyr 11 oed a hŷn.
Mae'n ddelfrydol ar gyfer gwersi sy'n cyflwyno hawliau dynol ac yn wych i fyfyrwyr ei gadw.
Gellir ei ddefnyddio gyda phecynnau ysgolion Cynradd ac Uwchradd.
I archebu: Ffoniwch 01709 448 579 a dyfynnwch y cod ED113.
Gallwch archebu fersiwn Saesneg o'r adnodd hwn hefyd.
Os yw'r hawliau yn y llyfryn hwn wedi eich ysbrydoli i gefnogi gwaith Amnest Rhyngwladol, efallai yr hoffech ymuno â ni.
 
---
A colourful pocket-sized booklet of all the articles of the Universal Declaration of Human Rights for students aged 11+
Ideal for introductory lessons on human rights and great for students to keep.
Can be used with Primary and Secondary school packs.
To order: Phone 01709 448 579 and quote the code ED113.
You can also order a version of this resource in English.
If the rights in this booklet have inspired you to support the work Amnesty International does, you might like to join us.