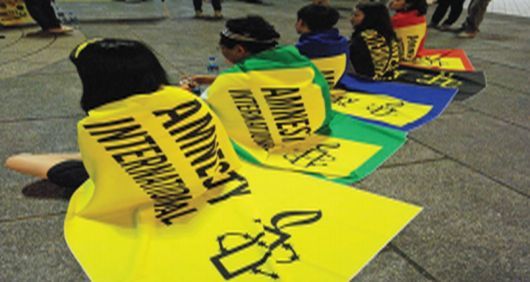 A downloadable resource by Amnesty Ireland, with chapters on drama, music, poetry, photography, film and visual art developed with some of Ireland's leading artists, including Maeve Binchy, Roddy Doyle, Seamus Heaney, Conor McPherson, and Christy Moore.
Chapters can be used in each subject or across disciplines. Each chapter includes the involvement of a leading figure in the field and has a range of lesson plans that can be used consecutively or independently.
Drama: Perform a play written by Roddy Doyle and then write your own.
Music: Learn about the anti-apartheid movement through protest songs, discover former child soldier and rap artist Emmanuel Jal and write a human rights inspired song.
Poetry: Explore human rights through the poetry of Seamus Heaney, Guantanamo Bay detainees, and Martin Neimoller.
Photography: Create a human rights inspired image, then consider disability rights through photographic imagery.
Film: Watch Amnesty film Child of Our Time, then create a 5 min human rights documentary.
Visual arts: Discuss human rights in art through the work of Gilbert and George, Gillian Wearing and Dominic Thorpe, then express your own views about human rights through art.