Yemen: funeral hall killings are another reminder of need for UK to suspend arms sales to Saudi Arabia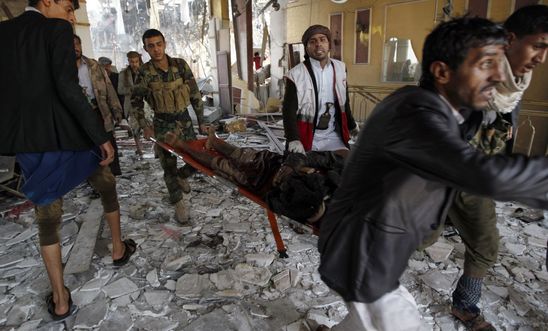 The attack in Sanaa caused a 'lake of blood' according to one rescuer © Mohammed Huwais/AFP/Getty
Responding to the twin air strikes on a crowded funeral hall in the Yemeni capital Sanaa at the weekend - attacks that reportedly killed at least 140 people and injured as many as 500 others - Amnesty International UK's Head of Policy and Government Affairs Allan Hogarth said:  
"Saturday's bloodbath at the funeral hall in Sanaa is just the latest atrocity in this appalling conflict and it's long overdue for the UK to halt arms sales to members of the Saudi Arabia-led military coalition while proper investigations into this and other air strikes are conducted.

 

"Thousands of Yemeni civilians have already been killed and injured in devastating Saudi Arabia-led airstrikes on hospitals, schools and homes - what clearer demonstration of the risk of sending more arms to Saudi Arabia does the Government need?

 

"Ministers are flouting a clear legal duty to suspend arms exports where there's a clear risk of UK weaponry being used to commit human rights violations."
The Saudi Arabia military coalition operating in Yemen has said it will "investigate" the incident, citing the coalition's Joint Incidents Assessment Team as a resource for doing this.
However, this process is unlikely to gain the confidence of many of the relatives of the victims or of the wider international community. In August, the coalition's Joint Incidents Assessment Team announced initial results into investigations of eight strikes, releasing only about a paragraph on each strike, and largely absolving the coalition of responsibility. The JIAT's methodology - including its verification of information, the choice of incidents investigated, investigations of acts by non-coalition parties to the conflict, and the status of its recommendations vis-à-vis coalition member - remains unclear. And the JIAT does not appear to have examined a single attack involving cluster munitions.
Any supposed commitment to accountability has also been undermined by Saudi Arabian threats to withdraw funding from critical United Nations programmes if the Secretary-General did not remove the coalition from his annual list of shame for killing and maiming children and attacks on schools and hospitals in Yemen. 
For more on Yemen, including evidence of the Saudi Arabia-led coalition using UK-manufactured cluster munitions, go
here
 and
here
.