Saudi Arabia should be suspended from UN's Human Rights Council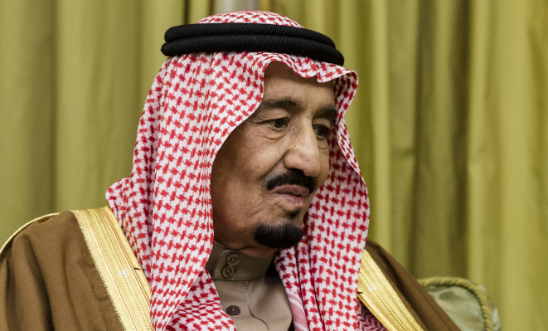 Human rights have deteriorated under King Salman © YOAN VALAT/AFP/Getty Images
Amnesty and Human Rights Watch call for move in light of carnage in Yemen and Saudi Arabia's bullying of UN system
More than 350 people have been executed since Saudi Arabia elected to the UN body 
'With arms sales to Saudi Arabia the UK's attitude is to carry on regardless' - Oliver Sprague
Amnesty International and Human Rights Watch are calling for Saudi Arabia to be suspended from the United Nations' 47-member Human Rights Council over its conduct in the conflict in Yemen and for its bullying of UN bodies to shield itself from criticism on its human rights record. 
Amnesty and Human Rights Watch want to see Saudi Arabia stripped of its Human Rights Council membership until it ends unlawful attacks by the military coalition it leads in Yemen and these are credibly and impartially investigated. 
In recent weeks, Saudi Arabia has evaded accountability for some of its human rights abuses by pressuring the UN to remove the Yemen military coalition from a list of states and armed groups that violate children's rights in armed conflict. Saudi Arabia threatened to disengage from the UN, withdraw its financial support including humanitarian projects, and to take its close allies with it. 
Amnesty and Human Rights Watch are calling on member states at the UN's General Assembly in September to vote to suspend Saudi Arabia from the Council. They are also calling for an independent, impartial international inquiry into violations of international humanitarian law in Yemen. General Assembly Resolution 60/251, which created the Human Rights Council, provides that "the General Assembly, by a two-thirds majority of the members present and voting, may suspend the rights of membership in the Council of a member of the Council that commits gross and systematic violations of human rights." In 2011, Libya was the first and only country ever to be suspended. 
Saudi Arabia's crackdown on dissent at home has continued unabated throughout its Human Rights Council membership, including through the use of grossly unfair trials at a special counter-terror court and long prison terms for peaceful dissidents and human rights activists. Meanwhile, more than 350 people have been executed since Saudi Arabia was elected to the Council, with more executions recorded last year than in any year since 1995.
When it ran for election to the Human Rights Council in 2013, Saudi Arabia pledged to "support the human rights bodies and mechanisms of the United Nations and cooperate constructively with them, particularly the Human Rights Council and its subsidiary mechanisms."
Richard Bennett, Head of Amnesty International's UN Office, said: 
"The credibility of the UN Human Rights Council is at stake. Since joining the Council, Saudi Arabia's dire human rights record at home has continued to deteriorate and the coalition it leads has unlawfully killed and injured thousands of civilians in the conflict in Yemen. 

 

"To allow it to remain an active member of the Council, where it has used this position to shield itself from accountability for possible war crimes, smacks of deep hypocrisy. It would bring the world's top human rights body into disrepute.

 

"As a member of the Human Rights Council, Saudi Arabia is required to uphold the highest standards of human rights. In reality, it has led a military coalition which has carried out unlawful and deadly airstrikes on markets, hospitals and schools in Yemen. The coalition has also repeatedly used internationally-banned weapons in civilian areas. At home it has carried out hundreds of executions, put children on death row after grossly unfair trials, and ruthlessly repressed opposition and human rights activists."
UK arms to Saudi Arabia
Since a Saudi Arabia-led military coalition intervened in the conflict in Yemen in March 2015, thousands of Yemeni civilians have been killed and injured, many in devastating airstrikes conducted by the Saudi-led military coalition. The UK is a major supplier of weaponry to the Royal Saudi Air Force - issuing licences for arms exports valued at £2.8bn between April and September last year, a period when civilian deaths in Yemen soared - and Amnesty has repeatedly called on the UK to suspend all sales of arms to Saudi Arabia and its coalition partners that could be used to commit human rights violations in Yemen. However, ministers have refused to consider this move, even after Amnesty recently revealed that a UK-manufactured "BL-755" cluster bomb had been used by coalition forces in an area of northern Yemen where 16 civilians, including nine children, have been killed or maimed by cluster munitions.
Amnesty International UK's Arms Control Director Oliver Sprague said:
"With arms sales to Saudi Arabia the UK's attitude is to carry on regardless - regardless of UN warnings over war crimes, regardless of the evidence of the use of cluster bombs, regardless of Saudi Arabia's threats to UN institutions.

 

"The UK needs to drastically charge course on Saudi Arabia, including by halting arms exports to Riyadh, supporting UN bodies in their efforts to hold Saudi Arabia to account, and by generally speaking out on Saudi Arabia's atrocious human rights record." 
New York press conference
Amnesty and Human Rights Watch are holding a press conference to discuss these issues at 11am (local time) on Wednesday 29 June in the United Nations Correspondents Association Meeting Room (Room S-310) at the UN Secretariat Building in New York. In attendance will be: Richard Bennett, Representative and Head of Amnesty International's UN Office; Tawanda Mutasah, Senior Director, International Law and Policy at Amnesty International; Philippe Bolopion, Deputy Director for Global Advocacy at Human Rights Watch; and Sarah Leah Whitson, Executive Director of the Middle East and North Africa division at Human Rights Watch.