West Bank: Airbnb's decision on listings in illegal Israeli settlements is 'deeply shameful'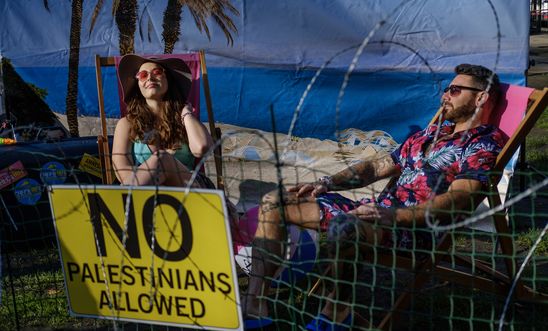 Amnesty protest outside TripAdvisor head office in London in January © Jon Cornejo/Amnesty International UK
Travel company announced last year it would remove listings 'at the core of the dispute between Israelis and Palestinians'
Move 'exposes the hollowness of their claims to be a company that values human rights' - Mark Dummett 
Responding to Airbnb's announcement that they will no longer be removing listings in illegal Israeli settlements in the Israeli-occupied Palestinian West Bank following a lawsuit by Israeli lawyers, Mark Dummett, Amnesty International's Business and Human Rights Researcher, said: 
"This decision is a deeply shameful abdication of Airbnb's responsibility as a company to respect international humanitarian and human rights law wherever they operate in the world. This includes in Israel's illegal settlements in the Occupied Palestinian Territories. It also exposes the hollowness of their claims to be a company that values human rights. 

"Airbnb are trying to absolve themselves by stating they will donate the profits from these listings to charity, but that fails to change the fact that by continuing to drive tourism to illegal settlements they are helping to boost the settlement economy. 

"Airbnb had a clear opportunity to make the right decision to uphold human rights and use their influence to set a precedent in the tourism industry. Instead, they have chosen to bury their heads in the sand - ignoring blatant evidence that they are helping to fuel violations that cause immense suffering to Palestinians.

"Airbnb's reversal demonstrates why we can't just rely on companies to take the right decisions, and that we need governments to fulfil their obligations by intervening and passing laws obliging their companies to respect human rights."
'Check out' campaign
In January, Amnesty published a major report showing how online tourism giants Airbnb, TripAdvisor, Expedia and Booking.com are fuelling human rights violations against Palestinians by listing hundreds of rooms and activities in Israeli settlements on occupied Palestinian land. 
As part of its Check out campaign, Amnesty activists staged a protest outside the London head office of TripAdvisor. The protest saw a "barbed-wire beach" set up in central London's Soho Square with "No Palestinians allowed" signs illustrating the starkly discriminatory nature of the Israeli settlement enterprise. 
More than half a century of occupation 
During the course of the nearly 52-year Israeli military occupation, more than 50,000 Palestinian homes and structures have been demolished, and tens of thousands of Palestinians have been forcibly removed. In their place, more than 600,000 Israeli settlers have been allowed to move into often purpose-built settlements, approximately 250 in number, with many of the settlements serviced by settler-only roads and guarded by a network of Israeli military checkpoints and other security infrastructure. The settlements are illegal under international law and a war crime. In total, approximately 1,000 square kilometres of Palestinian land has been expropriated by Israeli settlers in the past half-century.