USA/Mexico: members of migrant 'caravan' must be allowed to seek asylum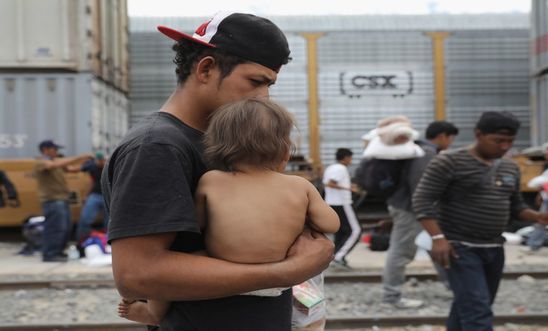 Migrants, most of them from Central America, on the caravan in Hermosillo in Mexico last weekend © John Moore/Getty Images
President Trump has made hostile statements and deployed National Guard 
'Seeking asylum is not a crime in the USA or anywhere' - Erika Guevara-Rosas
The US and Mexican authorities must stop demonising members of a travelling migrant "caravan" from Central America and respect their fundamental right to seek asylum, said Amnesty International today, ahead of their expected arrival at the border between the two countries later this week. 
Amnesty has received reports that in recent days Mexican immigration officials have detained and sought to deport Central American families from the caravan who planned to claim asylum in the USA.
Yesterday, the US Department of Homeland Security issued a statement threatening to detain those crossing the US border, while the US Attorney General Jeff Sessions said the caravan was a "deliberate attempt to undermine our laws and overwhelm our system".
The several hundred asylum-seekers in the caravan who reportedly plan to seek refuge in the USA represent a very small fraction of the total number of asylum-seekers presently in Mexico. President Trump has nonetheless cited the caravan as his motive for deploying the National Guard along the border with Mexico.
Erika Guevara-Rosas, Amnesty International's Americas Director, said: 
"Seeking asylum is not a crime in the USA or anywhere. 

"Threatening to indefinitely detain, prosecute, and deport these asylum-seekers is a cruel effort to stigmatise, terrify and push away traumatised people, many of whom have already given up everything to flee desperate circumstances in their home countries.

"As the world copes with the highest numbers of refugees since World War Two, the appropriate response is to welcome refugees - not insult them and return them to peril.
 
"Pushing asylum seekers back into dangerous situations would be a violation of both the national and international legal obligations of the US and Mexican governments."