USA: Trump urged to act on protective equipment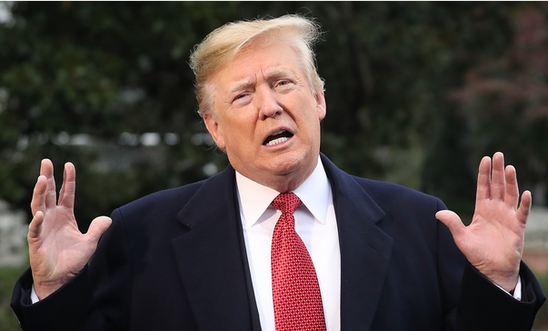 Donald Trump has been heavily criticised for downplaying the coronavirus crisis © Mark Wilson/Getty Images
Call on president to increase supply of PPE and ventilators as US coronavirus infection rates soar
Disturbing accounts of dangerous conditions in immigration detention facilities - new Amnesty report due next week 
'Until there is widespread testing available in every state, we will not fully know the full scale of this pandemic in the United States' - Margaret Huang
Amnesty International USA has written to Donald Trump calling on the US president to ensure that personal protective equipment (PPE), information, training and psychosocial support are available to support nurses, doctors and other response staff on the front lines of combating coronavirus in the country.
Amnesty is calling on the president to use every option available - including further invoking the Defense Production Act and using the Strategic National Stockpile - to increase the production of personal protective equipment, ventilators and other vital healthcare equipment.
These goods and services should be made widely available and affordable to all. There should also be a drastic increase in testing for COVID-19 in every US state.
Last week, Amnesty UK issued a similar plea to the UK Government to ensure that health workers were provided with protective equipment after repeated reports of shortages, a situation Amnesty described as "incredibly worrying".  
Margaret Huang, Amnesty International USA's Executive Director, said: 
"Until there is widespread testing available in every state, we will not fully know the full scale of this pandemic in the United States and not be able to take the necessary steps needed to limit and stop its spread.

"Every single person in this country should have access to care and safety. To stop the spread of COVID-19, our leaders must take immediate action now to ensure we have the supplies we need to keep us all safe."

 
Dangerous conditions in immigration detention facilities
Amnesty has received disturbing accounts from detainees of dangerous conditions in the USA's numerous immigration detention facilities.
The United States has the largest immigration detention system in the world, with nearly 40,000 migrants and those seeking asylum held in more than 200 separate facilities.
Last week (24 March), the Department of Homeland Security's and the Immigration and Customs Enforcement (ICE) agency announced the first confirmed case of COVID-19 in an immigration detention facility. Since then, ICE has revealed that 33 of its personnel and employees have contracted the virus, and dozens of detainees have been quarantined as potentially at risk.
Next week, Amnesty will release a new report documenting how Department of Homeland Security officials and immigration facilities have failed to adopt adequate measures to ensure public health for everyone - including by supplying soap and sanitiser to those in detention, facilitating social distancing in line with global standards, and providing adequate and responsive healthcare to those exhibiting symptoms of COVID-19.