USA: Texas school shooting - 'policymakers must take action'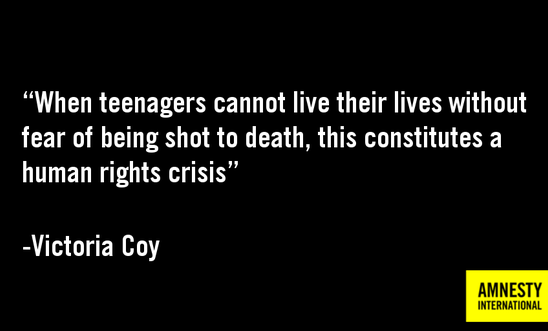 'We demand reform of federal, state and local laws to ensure everyone's safety and security' - Victoria Coy
Following police reports that there have been multiple fatalities in a shooting incident at a high school in the US state of Texas, Victoria Coy, Amnesty International USA's End Gun Violence Campaign Manager, said:
"Once again, we are devastated to hear of another school shooting.

"Our thoughts are with the victims and families of this attack. 

"When teenagers cannot live their lives without fear of being shot to death, this constitutes a human rights crisis. Quite simply, kids should be able to feel safe at school.

"Policymakers must take action to make sure school shootings don't happen before even more students are forced to run for their lives. 

"We demand reform of federal, state and local laws to ensure everyone's safety and security. We cannot wait any longer."
March For Our Lives movement
Earlier this year, Amnesty supporters attended numerous "March For Our Lives" US gun control events, including outside the US Embassy in London. US gun control advocates - notably school students directly affected by the mass shooting at the Marjory Stoneman Douglas High School in the city of Parkland, Florida in February - are pressing the US Government to introduce wide-ranging new laws following the shooting which claimed the lives of 17 students and teachers.
Amnesty is calling for a series of gun-control measures, including universal background-check legislation and the banning of military-grade "assault" weapons.